Hemingway with Furniture (10 Guests)
Hemingway with Furniture (10 Guests)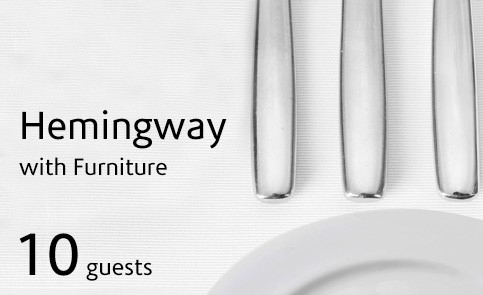 100300
£200.00 for 10 guests
Product Details
A complete hire package for 10 guests with white china, elegant glass, stainless steel cutlery, vibrant linens, stylish furniture.
Which ranges can I choose from?
CHINA
Tudor | Squirl | Square China
CUTLERY
Kings | Harley | Polar | Levite
GLASS
Savoie | Verdi | Popular Glassware
LINEN
Brocade | Expressions | Standard
FURNITURE
Gold Banqueting Chair | Limewash Camelot Chair | Samsonite Folding Chair | Rustic Wood Folding Chair
Full range of section, trestle, round tables
What's included?
40 x Plates
10 x Cups
10 x Saucers
10 x Dinner Knives
10 x Dinner Forks
10 x Dessert Spoons
20 x Side Knives
20 x Dessert Forks
10 x Coffee / Tea Spoons
40 x Glasses
1 x Cream Jug
1 x Sugar Bowl
1 x Salt & Pepper
2 x Water Jugs
2 x Tables
10 x Chairs
10 x Napkins
2 x Tablecloths