5 perfect winter drinks and what to serve them in
5 perfect winter drinks and what to serve them in
So, if you're planning an event and need some inspiration for drinks to serve to the over-18s this Winter, look no further than our top four picks to warm your guests: 
Spiced Irish Coffee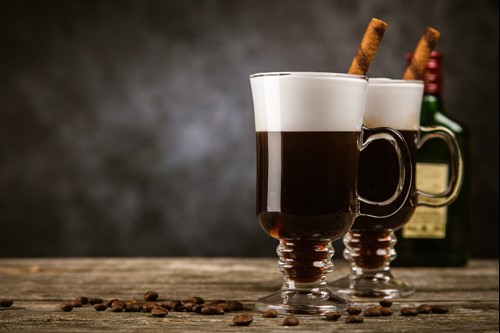 Combining caffeine with a whiskey tipple; the infamous Irish coffee is a staple drink for any latte lovers during the Winter months. At Allens we can provide a range of  traditional Irish coffee cups or even liquer coffee glasses if you want something a little different.
If you're looking to really impress your guests, why not try a modern twist on the classic recipe with a Spiced Pumpkin version; find the recipe here. Just, whatever you do, don't forget the trademark cinnamon stick to garnish!
Mulled wine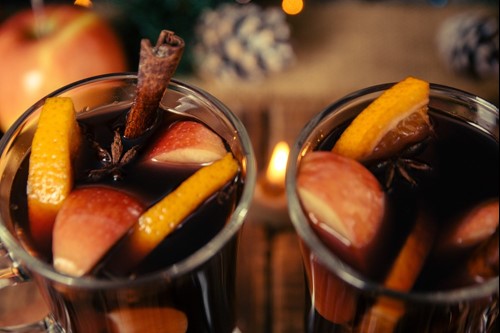 There's nothing quite like a glass of mulled wine to get people into the festive spirit. And one of the best things about this Winter favourite, is that it's a perfect drink to batch-cook in a slow cooker, and/or store in our coffee butlers, if you're catering for a large amount of people! Serve in Allen's classic red wine glasses with lots of fruit, or the shabby-chic jam jar glasses which work really well with the Winter chalet-inspired, rustic theme. 
Classic Hot chocolate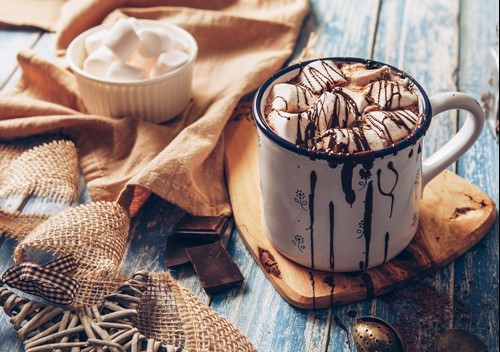 There's really nothing better than enjoying a classic hot chocolate indoors while it's cold and stormy outside. So, this popular choice of drink is bound to be a crowd-pleaser at any event or function.
Serve in colourful mugs with a drizzle of salted caramel sauce for an 'Alice in Wonderland' inspired tea-party theme, or add a splash of Kahlua for a strictly 'adults only' drink, and serve with mandatory marshmallows in a squall. Find the boozy recipe in full here.
Winter Sangria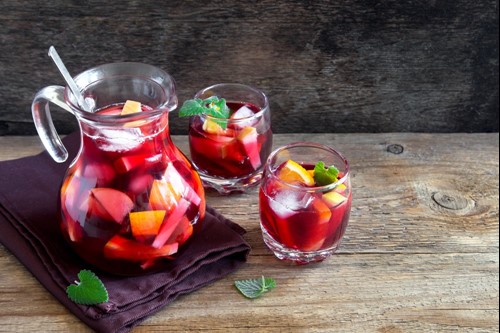 Last but certainly not least, why not try a festive twist on this Summer classic. Winter sangria might not be a hot drink, but it's definitely one to warm your bones with as we head into the colder months.
Why not wow your guests with a sparkling apple cider sangria, for a seasonal spin on a classic. Find the full recipe here, and serve in on of Allen's large Rubens Jugs so your guests can help themselves.
Apple Cranberry Moscow Mule
This festive take one the traditionally-gingery Moscow Mule, combines sparkling apple cider with a generous splash of cranberry. Find the full recipe for this quintessential Winter cocktail here, and add a bit of sparkle to the festivities by serving it in a Nachtmann Noblesse Whisky Glass with some frozen berries on top!
If you need to hire glassware, catering equipment or furniture for an event in London, or the South East, then contact Allens Hire today on 0208 574 9600 and let us take the stress out of event planning. And remember, have fun, but please drink responsibly!