7 things you need to hire for your event but always forget about
7 things you need to hire for your event but always forget about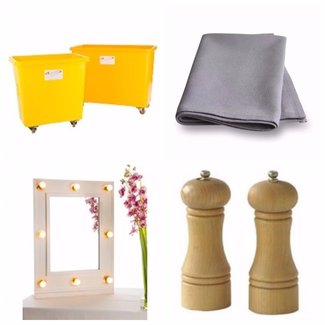 Whether you are a seasoned event pro, have been tasked to organise your company's yearly jolly or love throwing big family parties, there are always little details that can be easily forgotten about. We have created a list of miscellaneous items every event needs but are not always thought of.
Bin hire
Every party generates rubbish, no matter how environmentally friendly you try to be. It's important to have bins for both the service and guest areas. If you are looking for heavy duty bins for festivals, outdoor events or service areas then opt for our large plastic rubbish containers. If you want a discreet and stylish looking bin then you can choose the silver pedestal bin ashtray combo.
Bottle skip recycling hire
If you are holding a drinks event or are operating a pop-up bar then hiring bottle recycling skips can make financial sense. We offer medium and large bottle skips to suit all event sizes.  
Coat rail hire
It's always advisable to hire a coat rail – especially if your event is in winter. Not only does it help keep your guests' coats and jackets safe and clean during your party, it also prevents unsightly discarded coats and bags piling up in the corner. At Allens Hire, we offer black and chrome coat rails that come with over 40 hangers.
Salt and pepper sets hire
When planning a dinner event, it can be easy to forget to hire salt and pepper sets. These small but essential pieces of tableware will be missed by your guests if forgotten. We have a number of salt and pepper sets, such as perspex salt and pepper mills and wooden salt and pepper mills. We also have long 8-inch wooden pepper mills, ideal for Italian dishes. If you are looking for salt and pepper sets with matching dinnerware, then opt for the Tudor China set or our Goldline China collection.
Napkins hire
When ordering table linen, always order napkins. You can mix and match with our huge range of linen that comes in a rainbow of colours; from crisp white to fuchsia. Almost all of our linen collections come with matching napkins made of the same material. Our favourites include Expressions and Matisse.
Bar measures hire
If you are selling alcohol at your event, by law, you have to sell them in certain measures. To ensure you don't get on the wrong side of the law, ensure you hire bar measures. We offer measures in 50ml, 125ml and 175ml.
Mirror hire
Does your event have entertainment where your performers need to get dressed and made up? Or are you planning a wedding and need a mirror so the bride-to-be and her party can get ready? Then don't forget to hire mirrors. At Allen's, we offer full-length mirrors as well as makeup mirrors.
If you need to hire catering equipment and furniture for an event in London, or the south east, then contact Allens Hire today. We can help you with all your event hire needs!