Allens welcome catering companies from Russia
Allens welcome catering companies from Russia
On Friday 15th November, Allens welcomed owners and CEOs of several catering companies from Russia, Ukraine and Belarus. Arranged by Catering Consulting Russia, the visit provided Russian businesses with the opportunity to learn how a catering hire company runs in the United Kingdom, as well as share some insight into how Russian catering companies operate.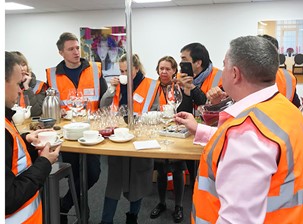 ​The group were taken on a tour of the warehouse where they found out about the workshop and washup operations as well as stock picking and sales. After the tour, the visitors spent time in our showroom with Managing Director, Kevin McGuinness, where they were able to see some of our latest products on offer, as well as receive demonstrations of various items such as our Riedel Veritas range, explaining the benefits of using grape specific wine and champagne glasses.
General Manager of Catering Consulting Russia, Kirill Pogodin thanked all staff at Allens Hire for their hospitality and sharing their knowledge of the industry.
It was a pleasure hosting our guests and we would like to thank all the businesses that visited us:
Figaro Catering, Favorit Catering, Top Catering, Usta Catering, Solo Catering, Corso Catering, Smile Event Catering, VDR Catering, Avrora Catering, Ocean, SportUnion Delta, First Catering School and the Association of Banquet and Catering Services