Out of the Splash Zone - Oxford v Cambridge: The Boat Race and the Goat Race
Out of the Splash Zone - Oxford v Cambridge: The Boat Race and the Goat Race
Next Sunday, the finest rowers of Oxford and Cambridge will add another illustrious chapter to one of the most enduring sports stories in British history. It is time for the Boat Race 2014.
But over at Spitalfields City Farm, another exciting event is growing in popularity; and promises to rival the Thames-based race for drama and excitement.
It is, of course, the sixth annual Oxford Cambridge Goat Race.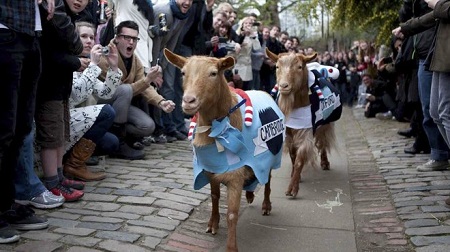 As the name suggests, this alternative race features two goats, named Oxford and Cambridge. The hoofed combatants, race around the historic farm while fans can place bets with an official bookie on the grounds.
What it lacks in history, the Goat Race makes up for in fun; replacing boats full of hardened athletes with furry, four-legged friends; and that's not all. Gates open at noon and visitors can enjoy live music, booze and plenty of goat-related silliness.
The Boat Race might have been running since 1829, but more and more people are heading down to the farm every year to take in the laughter and excitement of this  alternative race, which is in its 6th year.
For real thrills and heart pounding drama, the original boat race is hard to beat. Oxford are already up and running this year, after their ladies won the 2014 Newton Women's Boat Race by 4 clear lengths. Oxford's gentlemen trail Cambridge over-all with 77 victories to Cambridge's 81.
This year's race promises to be as competitive as ever before; and the sun seems always to shine on the Thames come race day. As London's event hire specialists, we can have champagne buckets ready and waiting whether you are celebrating or commiserarting come the end of whichever race you decide to watch!
If you are hosting a sporting event in London of the south of England, discover how Allens Hire could make your event a success with a visit to our main site.