Christmas party hire trends 2017
Christmas party hire trends 2017
Now it's summer, most people are thinking about holidays, getting out to the beach and wondering where they can get a decent glass of Pimms. However, if you want to make sure you get the pick of Christmas party catering equipment and furniture hire, now is the ideal time to book. The most on-trend furniture and china can be snapped up early. To help you choose what you need for your event, we've taken a look at the top trends for Christmas 2017 and how you can create them with our top of the range catering equipment and furniture.
A Bloomsbury Christmas
Think dark, rich colours, luxury fabrics and lavish parties. One of this year's top trends, according to Pulse London, has taken inspiration from the literary centre of London. Bloomsbury has long been associated with novelists and academics. It's the home of the British Museum, famous publishing houses and its notable locals over the years have included Charles Dickens, J M Barrie and Virginia Wolfe. If you want to bring a touch of luxury and Victoriana into your Christmas party, take a look at our top pick of Bloomsbury-inspired products.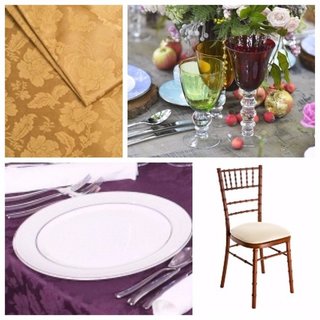 Our collection of Brocade linen come in a range of rich, jewel-like colours, such as antique gold (top left) and deep purple (bottom left). Pairing deep coloured luxury linen with bone white china will help your tableware to stand out. If you want to give your event a Victorian Bloomsbury twist then opt for a Walnut Camelot chair (bottom right). Coloured glasses, coming in a number of rich colours such as purple red and green, will give your table a decadent festive look. 
Harmony
Peace and harmony is, of course, one of the big messages of Christmas. This year's harmony trend brings together simple and clean looking materials with neutral tones. According to Christmas World, one of Europe's biggest Christmas trade fairs in Masse Frankfurt, the harmony trend is all about celebrating the beauty of reduction.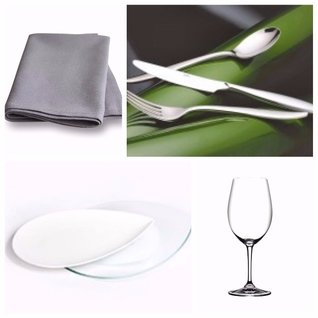 The simple but stylish Dove Grey expressions linen (top left) will give your table the pared down subtle background, giving your tableware and decorations a chance to shine. If you want to add discrete simplicity to your event, then opt for our Polar Cutlery (top right) collection with our white and elegant Tear Drop (bottom left) plates. Want to pair quality with a natural and clean looking tones for your drinks event? Then choose the Riedel Restaurant wine glasses.
Playful
Both Christmas World and UK based Festive Productions see a playful trend being part of this year's Christmas celebrations. From vintage pieces to geometry, this trend is all about the unusual and unconventional; with pine green, dark denim blue, coral and dark brown colours dominating.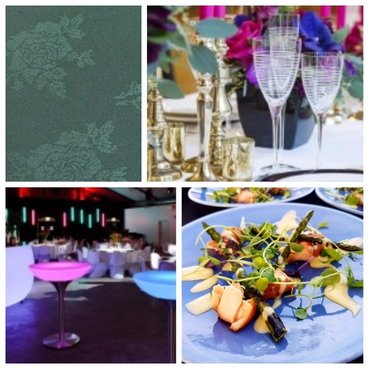 Inject a playful splash of colour into your Christmas party with our range of LED Tables (bottom left). With a number of colour settings, you can find the right hue for your event. Pair our forest green linen with Ariston glassware for a fun festive look. If you want to add natural textures to your décor, opt for the handmade Jars Blue Chardon plate.
If you are looking to hire china, cutlery, furniture, linen or catering equipment for your Christmas party contact Allens Hire sales team today!