Hot Products for Weddings in 2017
Hot Products for Weddings in 2017
The wedding season is just around the corner, and to help you on your way we have picked the hottest products from across our wedding range to help you create your perfect day.
Wedding china, cutlery and Glassware
Once the ceremony is over, food and drink become the focus of a wedding, and what you're serving the food on and with, is just as important to the bride, as your edible offering.
China - Georgian China remains a popular range for weddings as does our Goldline and Platinum China range. If you want something unique then opt for Ginseng or Satinique. For a spot of luxury opt for William Edwards and White on White. Why not combine the White on White china with pastel rimmed hues of William Edwards's plates as shown below. Forest Green is the colour of 2017, if you want to be bang on trend and invoke nature, choose this forest green swirl plate which could feature as a starter or dessert plate.
Wedding Cutlery –Cutlery should not be overlooked at your wedding. If you are having a contemporary theme then opt for the world renowned Robert Welch Stainless Steel Palm, Westbury or Iona collection; or go for a traditional look choose EPNS Fiddle, Grecian or Kings designs. . . .

Glassware – The elegant Sofia glassware range(pictured) is perennially popular for weddings as is our collection of Riedel Degustazione wine glasses, especially with the Degustazione as the water glass.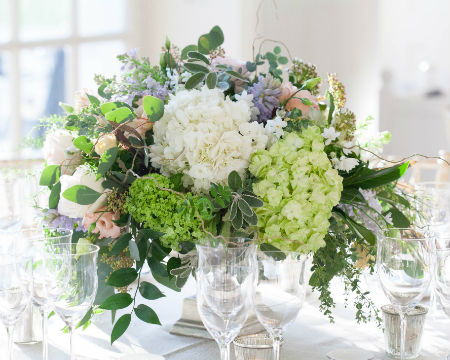 Wedding sharing and canapés platters
If you don't want a traditional formal sit down meal, it is possible to have family style sharing platters. Not only is this way of eating more relaxed, it will help to get your family and friends interacting on the day. We have a vast array of sharing platters made from a number of materials from handmade glass to wood to Perspex. Take a look at our unique collection here. 
Wedding furniture
Rustic and shabby chic are still very much in vogue for weddings and our limewashed Camelot (pictured) is still ever popular for these themes.  According to hitched.co.uk, the top wedding décor trend for 2017 is 'industrial luxe'. The website predicts that warehouse wedding venues are set to be huge and such blank canvasses are going to need furniture. If you have a contemporary or futuristic theme, you might consider the a wicker chair or phantom chair . or you could always contrast the stark industrial look with a spot of luxury, opting for the gold banqueting or walnut Camelot chair.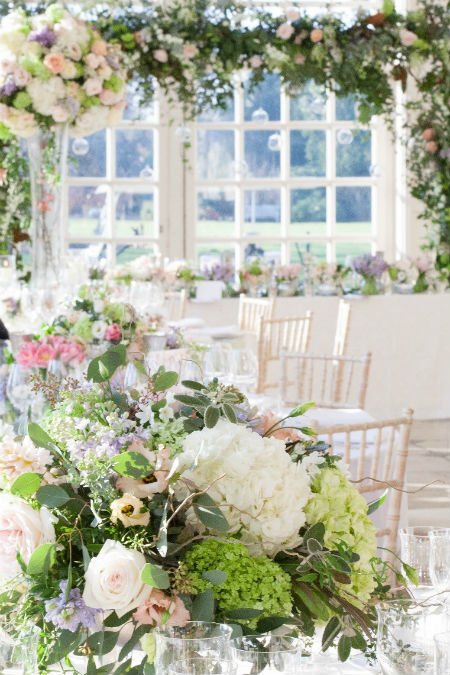 Wedding cake stands
Desert tables are becoming ever more popular and at Allens, we have an array of cake stands that will work for your wedding. For cupcakes, donuts or macaroons, go for the our selection of  china three tier cake stands. If you are having a grand traditional wedding cake then choose from our collection of single tear wedding cake stands.
Wedding linen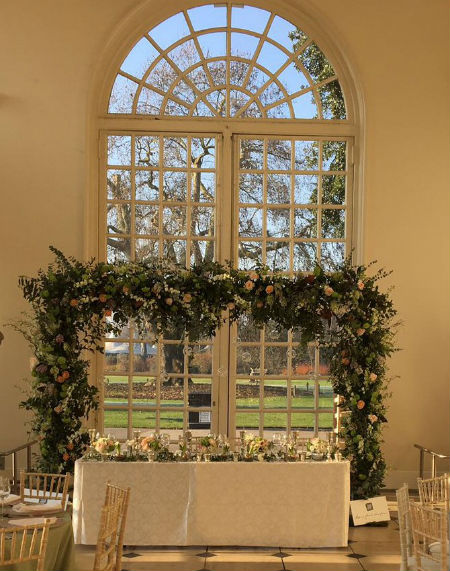 While the linen for your wedding may seem like a small part of the celebration, it is the canvass of your table setting and sets the look and feel for the reception. We have a massive range of wedding tablecloths that come in a variety of colours but for traditional elegance our White brocade cloth or Ivory brocade linen is still universally adored.
Wedding LED Bars
If you want your guests to enjoy your wedding reception in style then hire one of our LED bars which can be configured into a number of shapes and can glow in 16 different colours. We also have a number of bar poseur tables which are perfect for encouraging mingling.
Wedding tables
Whether you want a round, rectangle or square tables for your wedding we've got you covered at Allens. Take a look at our range and choose the right one for your big day.
If you need to hire catering equipment and furniture for your London wedding, contact us today!