Just opened in Southampton
Just opened in Southampton
Allens Catering Hire Services have opened a new depot in Southampton, in an effort to service the South Coast and expand its business.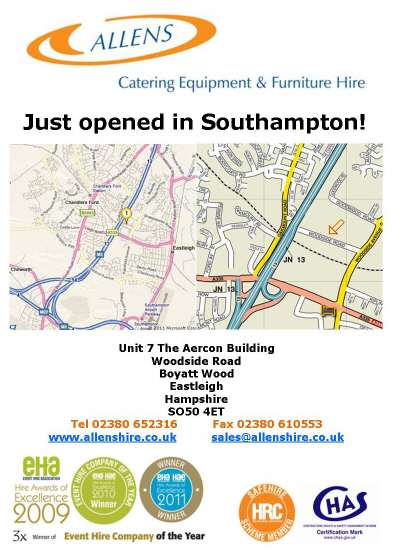 The new branch will provide catering equipment for rental in Southampton, along with several other services for events. Now, Allens can cover the entire area, and provide services all the way down the M3 corridor - a huge advantage for anyone looking to cater for a large event.
Allens Catering Hire has the latest Meiko M-IQ dishwasher which has the most progressive, efficient and environmentally-friendly technology providing the most effective cleaning results for its products providing you with quality catering hire products every time.
In the current economic climate, purchasing furniture and equipment for a venue can often be hugely expensive - possibly prohibitively so. Hiring from Allens Catering Hire is an extremely cost-effective way of getting around this, and you'll never have to worry about sourcing and disposing of event equipment ever again.
So, if you're catering an event or working with a venue anywhere on the South Coast, then come by Allens's new Southampton depot. No matter how big or small your event, our office and warehouse will be able to assist you.
Browse catalogue for catering equipment hire Southampton