Outdoor Weddings and Events - Protect Your Big Day from less than ideal Weather
Outdoor Weddings and Events - Protect Your Big Day from less than ideal Weather
As we head towards September, we're still in for some summery days, though the changeable climate means that there's always a chance of wet weather across the UK. So what do you do if adverse weather strikes at an outdoor wedding or event?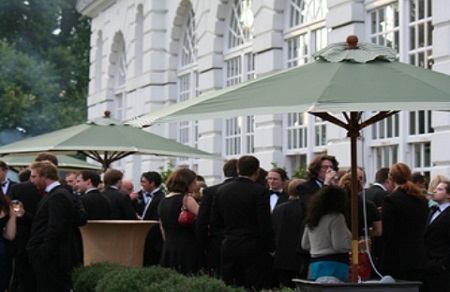 It's the one factor of planning a summer event outdoors which is truly out of your control. Still, that doesn't mean you can't protect visitors and décor from the elements.
That's why we've published some tips for preparing an outdoor wedding or celebration, to ensure that wind, rain and even blazing sunshine aren't a problem.
If you're planning a corporate event, or company retreat, for a large number of people it might not be possible to accompany all of them in a tent and even if it is, a marquee in a sodden field might not be to everyone's taste. For this reason, planners must be prepared to make a decision on whether it might be better to cancel the event altogether and plan it for another date.
When it comes to a wedding, this isn't really an option but might be more realistic for something else. Unfortunately, Mother Nature hasn't been browsing through pictures of perfect weddings as often as the bride has, so preparing for unstable weather is a must.
In fact, the most important thing to do when planning an outdoor event is to have a plan B. This might be an alternative indoors space close by, or a tenting option which can be factored into your budget. For weddings in particular, a selection of indoor photo locations should be considered and this could help you to choose the right outdoor venue.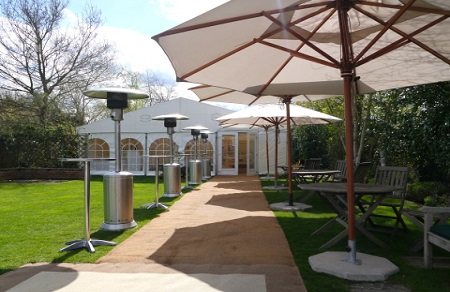 Most outdoor events will include a marquee or canopy area or gazebo area with umbrellas and patio heaters becoming a more and more recognisable offering at summer weddings.
Of course, oppressive heat and intense sunshine can be just as detrimental, and even harmful, over a long period of time. Fans are another great handout and smart wedding planners can incorporate programs which double as fans.
Price no option? An air conditioned break out area, particularly for kids, is ideal, along with a cold water station.
Are you organising an outdoor event this summer?  As well as our superb range of tables, chairs, linen, cutlery, crockery and glassware, our outdoor cooking range could include everything you need to make it a success. From gas or charcoal BBQs, Hog Roasts, to Paella Pans and Burners, we can deliver the catering equipment and furniture you need to hire to any venue in London or the South of England.
For more information, or to make a booking today, call 0208 574 9600 for London, 023 8065 2316 for the South Coast or email enquiries@allenshire.co.uk.