Allens Hire's perfect Valentine's Day dinner for two: Part 2
Allens Hire's perfect Valentine's Day dinner for two: Part 2
If you enjoyed our blog earlier this week, you'll know that we're helping readers to prepare a wonderful Valentine's Day dinner for their special somebody. In part 1 we covered the actual table setting and creating the ambience now in Part 2 of our special valentine's blog we cover the food.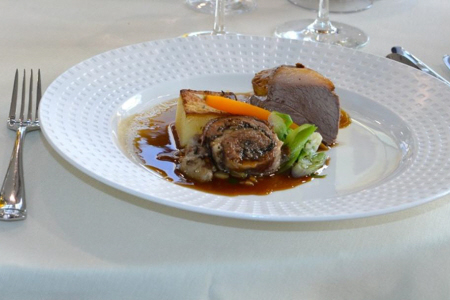 In truth, there are plenty of ways to indulge a sweet (or savoury) tooth on Valentine's -- and not simply when you're sat at the dinner table. Here are some ideas to get you started:
The Breakfast in Bed
This year, Valentine's Day falls on a weekend and that means it's the perfect opportunity to ditch the porridge or bran flakes and opt for something decadent to start the day.
Why not treat your significant other to an extra special breakfast in bed?
You could go for baked eggs and crusty toast, or simple homemade crumpets with burnt honey butter. Eggs Benedict with smoked salmon and chives is as classy as breakfast gets but depending on the recipient, a breakfast burger (with all the breakfast favourites on a toasted brioche bun) might go down better.
The Valentine's Gift
Some of the best (and most welcome) Valentine's presents will be ones that the receiver can eat, and whether they're homemade or store bought, chocolates, sweets and biscuits always go down a treat. 
A wonderful gift idea for a bakery enthusiast is the cookie making kit: all you need is a glass jar filled with ingredients for homemade biscuits. The result looks great and the recipient gets to have the fun of baking the cookies.
The Aperitif
Ahead of dinner, treat your lover to a tasty cocktail to kick-start their enjoyment of the dinner to come. Amaretto Fizz is a wonderfully simple cocktail, which can be prepared in moments by mixing Disaronno, orange juice and sparkling wine in a jug. Serve in a champagne flute with a strip of orange zest.
The Dinner for Two
What's more romantic than a dinner portion that's right for sharing? Prepare a healthy slice of prime rib eye steak and serve with hollandaise sauce and asparagus for added aphrodisiac effects.  Whatever you decide – you can make it look extra special served on your choice of plate available from Allens (pictured above is a plate from our Satinique range).
Not a meat lover? Not a problem. You can create a Valentine's vegetarian option which packs a love punch; like sweet and sour lentil dhal with grilled aubergine.
The Dessert
Last but not least, it wouldn't be a romantic Valentine's Night dinner without a great dessert, but of course, you don't want the night to end on a bum note so the emphasis should be on quality over quantity at this point.
A low fat chocolate sorbet served in a delicate cocktail glass will look great and satisfy the palette, without leaving you feeling bloated or tired. Hot mocha puddings, meanwhile, take just minutes to prepare and come in individual portions too; namely the teacup of your choice. They're rich and indulgent enough that you'll feel satisfied enough once the last spoonful is gone.