Business networking event ideas
Business networking event ideas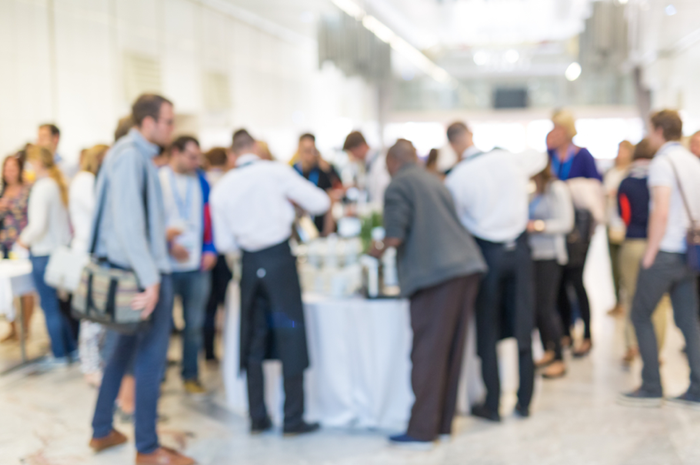 Even in this digital age, meeting face-to-face is still important and networking events help to bring people and businesses together. If you are holding a business networking event- either as part of a larger conference or workshop, or as a stand-alone event, we have compiled some great ideas on helping your delegates to connect with each other.
Going offline
Mobile phones can be a distraction; so, to help your attendees to focus, you could opt to have a no phones hour during your networking event. This may help encourage people speak to each other and mingle, without being distracted by the pinging of messages or having conversations interrupted by phone calls.
Another option is to deliberately take delegates to a place which has no internet access or mobile phone signal. You could have an invitation-only event or summit aimed at bringing together a  community of entrepreneurs, academics, engineers, chefs or other movers and shakers.  You could take your guests to the tops of mountains or other 'offline' areas to help attendees 'build lifelong friendships and to take time to truly know those around you.'
Less is more
Whether your networking event is part of a larger event or its own gathering, limiting the amount of content that attendees are expected to digest is important. There is only so much information delegates can take in, so keep any 'educational' sessions that are part of your event to 10-30 minutes and leave space in the schedule for networking and informal meetings.
Breaking down into groups
If you have a large number of attendees at your event, one way to help bring the right people together is to break people down into complementary groups. An easy and cost-effective way to do this is to have a roundtable networking event, or you can take smaller groups of delegates to different venues to enhance their networking experience.
For some attendees, having a targeted networking event, such as a roundtable format, can be less intimidating, as it takes the pressure off the individual and its easier to strike up a conversation.
Icebreakers
It can be hard to get a group of strangers to connect. To help the networking process along, use icebreakers to bring your attendees together. You could do this by organising a game, such as a pub quiz, scavenger hunt or a round of bingo.
Networking is usually one of the main reasons that people attend a corporate event. The type of networking event you choose will depend on your event and the people you are bringing together.
Don't forget, if you are hosting a networking event, you may need to hire furniture, glasses, catering equipment and tableware. Contact Allens Hire for all your event hire needs.