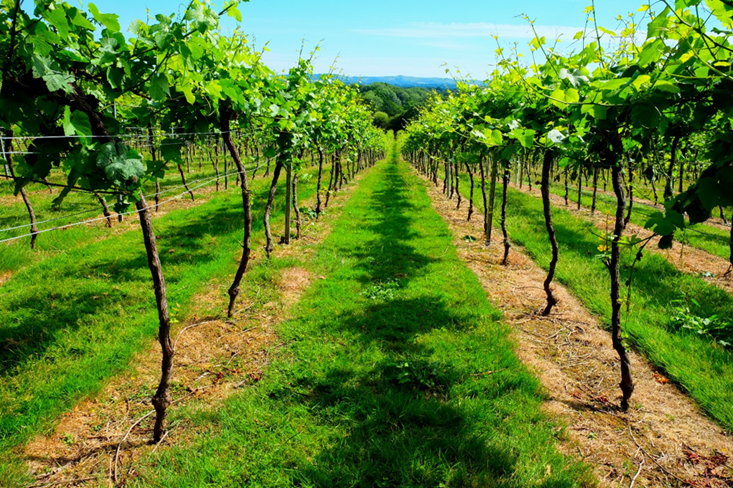 In recent years, wine from the UK has been winning prestigious awards and making waves in the global wine industry. Across the country, from Sussex to Snowdonia, there are over 500 commercial vineyards and 164 wineries; with over three million vines planted, the UK wine industry is only set to grow. According to Wine GB, the most common grape planted on these shores is pinot noir, which takes up over 29% of the total hectarage, with chardonnay following a close second, at 28%.
In 2018, the Ridgeview Wine Estate, located in East Sussex, won Winemaker of the Year in the International Wine & Spirit Competition (IWSC). This is the first time in the award's history that a wine from the UK has been given the award. The IWSC is one of the most prestigious accolades in the wine world and is seen as a benchmark for quality. In 2016, an English sparkling wine was chosen by an elite group of Parisian experts to be better than Champagne in a blind tasting. The triumphant wine was West Sussex's Nyetimber.
Sparkling wine
Most of the wine being produced in the UK is sparkling wine, with over 69% of bottles comprising of this type of wine. Sparkling wine has taken precedence due to counties such as Sussex being made from the same limestone chalky landmass as Champagne. Pinot noir, chardonnay and pinot meunier are the most common grapes used in sparkling wine and they tend to grow well in the South East of England.
English wine
The South East has the bulk of the English vineyards, with the rest dotted about the South West, East Anglia and some in the North of England. Typically, English wine tends to be dry and features a hedgerow freshness that is similar to New Zealand sauvignon blanc. Rosé is another type of wine that has done well in the UK. English Rosé tastes best when its young and its hint of sweetness pairs well with summer picnics and also with mildly spiced food. One of the major estates specialising in rosé wine is the Three Choirs Vineyards in Gloucestershire.
Welsh wine
It may come as a surprise to many, but Wales has a burgeoning winemaking industry. From the valleys of Monmouthshire to the hills of Snowdonia, Wales is producing award-winning wines. Parva Farm Vinyard has won the Best Welsh Wine Award, While Pant Du in north-west Snowdonia has won several awards, including United Kingdom Vineyard Association Wine of the year and the Welsh Vineyard Association Wine Competition. The types of grapes grown in wales include rondo, bacchus and seyval blanc, amongst others.
Wine tasting glass hire
If you are holding a wine tasting event and need specialised wine tasting glasses, then take a look at our Riedel collection of grape specific glasses. Contact Allens Hire today for all your glass hire needs.