Allens Hire Celebrates UK Coffee Week
Allens Hire Celebrates UK Coffee Week
As event hire specialists for London and the South of England, we like to keep you up to date with many of the fun things that are happening in the capital all the time. This past weekend marked the launch of UK Coffee Week, with the London Coffee Festival kicking things off from the Old Truman Brewery on Brick Lane.
Thousands were in attendance to celebrate their love of the magic beans and for the rest of the week, they'll be joined by coffee drinkers the length and breadth of the country. That's why we're taking the opportunity to salute the fine cup of coffee, via our blog, because few events would be the same without it.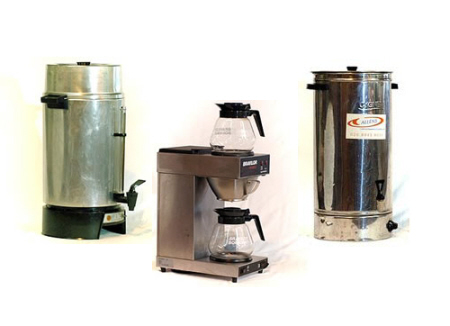 A selection of the coffee machines available for hire at Allens Hire, including (L to R) our 5 Gal Boiler, the 2 Pot Coffee Filter Machine & our Coffee Percolator,
When we think of gorgeous wedding ceremonies in stately homes or glamorous fashion shows and launch parties at London's most prestigious venues, we're more likely to think of popping corks and trays of champagne flutes than a warm cup of Joe. But coffee plays a big part in the success of these event; both behind the scenes, and in front of them.
Ask any event planner or host and they'll tell you the importance of coffee in no uncertain terms and we all know that there's nothing better than a rich shot of espresso after a three course meal delicious meal. So raise a cup for coffee and participate in UK Coffee Week.
The occasion aims to bring coffee lovers together to raise money which will improve access to safe water in coffee growing countries. This year, UK Coffee Week will raise money for Project Waterfall, providing safe water to Mbulu, a remote community in Tanzania.
Do you need coffee for an event in London or the South of England? Browse our coffee accessories, catering appliance hire and much more today.