Brighten up your party with our LED bar collection
Brighten up your party with our LED bar collection
Colour has made a comeback this season. After years of soft understated hues, bright and bold is back. The retail landscape is full of standout colours such as mustard yellow, burnt orange and pillar box red, and what is happening in fashion traditionally translates to events.
When guests attend events, they want to be wowed. Having a great and novel experience at an event will make it memorable. For those that attend many events, they can all blend into one, but by giving your guests a novel experience your event will stand out. 
Creating the right memorable experience is all about ambience and colour, as well as having the right food and entertainment. At Allens Hire, we have a collection of LED bars and accessories that will bring colour to your event and excite your guests. 
The LED bars glow in an array of 16 colours such as red, yellow, pink, blue and purple; and with both straight and curved bars, we can create a number of bespoke shapes to suit your event. You can also customise the colours and how they glow as each bar has a number of settings to control how the lights are used. For further personalisation, we can also put your brand or any creative of your choice on each of our bars. Our LED bar hire is the perfect and novel way to bring colour and light to your event that will create a magical atmosphere that will help your guests relax.
To keep the theme together, hire our LED poseur tables for that contemporary bar feel, or if you feel you need something a little more casual, yet stylish, our  LED dining tables also lights up in 16 colours with customisable settings.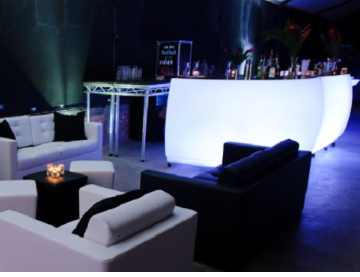 To keep the modern feel that an LED bar lends, hire furniture that compliments this look. Our selection of lounge furniture is both stylish and comfortable. If you are looking for bar seating opt for our Z Bar Stools and for a more relaxed seating arrangement choose the Collingwood collection. This contemporary range features silver metal detailing that surrounds the leather style upholstery which comes in black or white. The design is not only polished but will help to reflect the light of the LED bar and tables.
Of course, if you are hiring a bar you will need to be able to make the drinks. At Allens Hire, we offer all the bar and cocktail equipment you'll need to create the perfect drinks for your guests. We also have an extensive range of glassware that includes specialist wine tasting glasses from leading glass manufactures Riedel, champagne glasses and a huge selection of cocktail and spirit glasses. 
Want to hire our LED bars? Then contact Allens Hire today!