What's new at Allens Hire in 2019
What's new at Allens Hire in 2019
At Allens Hire, we regularly update our collection so we can stay bang on trend. We understand that the world of events is a rapidly changing industry that craves new and exciting concepts. This year our new range will bring a whole new feeling luxury and refinement to your event – with gold and silver china plates from top china designer William Edwards. Go back in history to a time maximalist living with our Louis chairs and prohibition inspired glasses from Riedel Bar.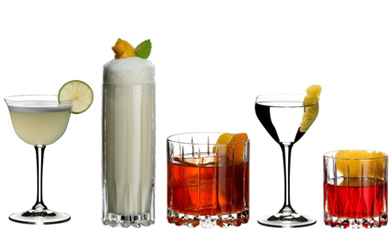 Austrian glassmaker Riedel is famous for creating beautiful and quality pieces of glassware. In this latest collection, Riedel has taken the principles of making grape specific glasses and applied the same concept to spirit glasses. With help from the world's foremost spirit tasters, this collection has taken inspiration from the prohibition era to bring an elegant collection of spirit and cocktail glasses, that include the return of the famous Nick & Nora glass. Essentially a coupe glass, this drinking vessel was daubed the Nick & Nora glass after the main characters of a 1930's film called The Thin Man. Among other things, Nick and Nora Charles, a husband and wife sleuthing duo swill cocktails, gins and martinis in copious amounts throughout the film from coupe glasses, which ended up being named after them. The collection also includes cut glass neat, fizz and rocks glass, an elegant beer glass and minimalist whisky and water glasses.
Add a touch of luxury to your event with our gold and silver-rimmed plates which have been exclusively designed by ceramic designer William Edwards. At a time when potteries were in terminal decline, William opened up a fine ceramic factory in Stoke-on-Trent in 1993 with the idea of creating bespoke bone china. He has since created unique and exclusive pieces for the world's most top restaurants, hotels, clubs, retailers and royal palaces. He has also worked with celebrity chefs such as Tom Kerridge and Brett Graham to create bespoke pieces for their Michelin starred restaurants. This isn't our first collaboration with the ceramic designer, the elegant pastel hued Fresco collection was exclusively designed by William Edwards in 2012. Since its launch it has become one of our best sellers.
These luxe inspired plates are perfect for weddings, banquets, corporate events or any event where you want to impress. Using a mix of both the gold and silver plates in a table setting is the perfect way to bring mixed metal accents to your event. According to Elle Décor, "An ensemble of metal accents used throughout a room is in, and will always be a timeless and tasteful way to create balance and definition in an environment."
There are two conflicting trends this year maximalism and minimalism. Elle Décor has declared maximalism is in, in their 2019 design trends report and Marie Kondo is inspiring everyone with minimalist living on Netflix. We think our Louis chair can bring the ideal elements of both trends into an event. The Louis chair comes from designs that would have adorned Versailles and other French palaces during the 18th and 19th century. With an oval back and elegant designs, these chairs hark back to a time of high luxury, glamorous balls and fairy tale chateaus. However, they are contrasted with simple classic upholstery and colours, that will bring clean elegance and glamour to your event. Available in three colours limewash, black and silver, our louis chairs are ideal for banquets and weddings.
Need to hire glassware, china and furniture for your event? Then contact Allens Hire today on 0208 574 9600 or if you are located on the south coast 02380 652316.