See in the new year in style with Allens Hire. From tableware and glassware, to furniture and even kitchen equipment, Allens Hire have all of the latest trend-led pieces you could possibly need to celebrate the end of a decade. As one of the most important celebrations of the year, it's understandable that you want to go above and beyond when hosting a New Year's Eve party – whether that's for a venue with a full guest list or an intimate supper club for friends and family. At Allens Hire, we have over 30 years of experience when it comes to hosting parties and when it comes to New Year's Eve – we get bigger and better every year. Here are some of our trending products for the end of 2019 parties.
Table linen
Gone are the days of plain white table linen and this year we've seen the rise of pops of colour, with events even being themed with one shade in particular. New in to Allens is a fantastic range of Kew linen in some of the season's hottest colours. One of our favourites for the festivities is the colour of the moment: dusty pink. Pair with pink glassware and pink accessories in different shades for truly stylish party décor or mix things up by using alongside other fashion-forward shades such as navy blue, olive green or even a hint of gold (it is a party after all!). Available in both tablecloths and napkins, linen is the perfect way to add a pop of colour to your New Year's Eve celebration.
Characterful China
A table setting isn't complete without perfectly styled china, whether your guests are enjoying canapes and sharing dishes or are getting a full tasting menu. New in from Jars Stoneware are a fantastic alternative to plain white china, perfect if you want to give your décor that little bit of je ne sais quois. With a range of colours to choose from, you can choose grey cashmere or natural samoa for a minimal, Scandi effect or add more colour with an orange or purple design. This china is packed full of character with a rustic energy, making them perfect for outdoor barn-style or warehouse events. With their unusual qualities, this china will act as more than just something to serve your food on when the time comes.
Furniture to wow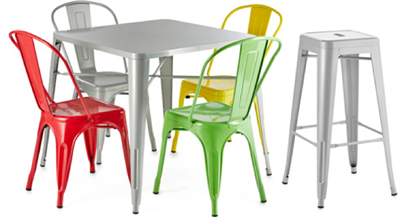 As we step into a new year, you might also want to take a step away from traditional seating and opt for something a little more contemporary. If this is the case – we have just the ticket. Inspired by the ever-growing café and coffee shop culture, these stripped back, minimalistic and slightly industrial chairs and stools are perfect for anyone looking to stay ahead of the trend with their New Year's Eve party theme. Whether you're opting for plain silver or pops of primary colour, our Café Culture chairs are the perfect choice for a modern finish to your event's décor. Stepping away from leather and velvet and into a more industrial style is definitely a trend to consider.
Vegetarian party food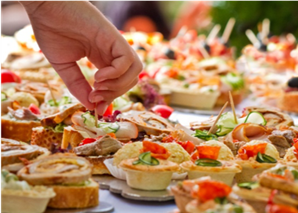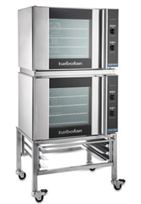 A New Year's Eve party isn't a New Year's Eve party without the food, and in 2019 we have seen a huge rise of vegetarianism and veganism which is only set to get bigger as we enter into the new decade. Vegetarian food trends include experimenting with different vegetables in the form of small plates, vegetarian canapes and classic junk food turned veggie which might give you an idea of the type of menu you want to create for your big event. Whatever food trend you decide to go with for your party, you're going to need a way to prepare it so this year, why not choose Allens Hire for your kitchen equipment needs? We offer double stacked ovens and a range of gastro fridges and freezers to ensure that your freshly prepared menu runs perfectly smoothly.
Whatever you decide to do for your New Year's Eve celebration, take away some of the hassle and bring a little bit of style with fabulous catering options available at Allens Hire! Contact us today.