Angus Memorial Pancake Day Competition 2023
Angus Memorial Pancake Day Competition 2023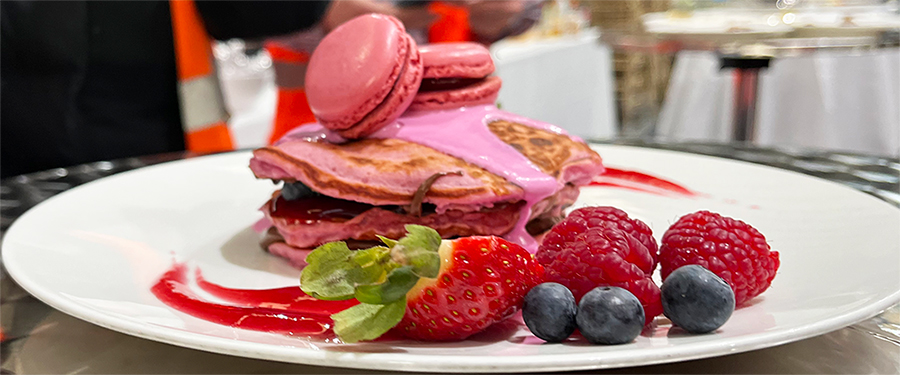 Every year, the staff at Allens Hire gather together for a special event - the annual pancake competition. This tradition has been in place for nearly a decade, and it serves as a way to remember a beloved former colleague, Angus Porteous.
Angus was a much-loved member of the Allens Hire team, and he had a particular passion for pancakes. Every pancake day, he would whip up a batch of pancakes for the office, much to the delight of his colleagues. Sadly, Angus passed away in 2015, but his memory lives on through the annual pancake competition.
The competition is open to all staff members and sees very stiff competition and this year was no exception. Competitors included an ex-chef, past winners and of course, the reigning champion. Each participant is tasked with creating their own unique pancake recipe, and they are judged on presentation, taste, and originality.
The competition is always hotly contested, with staff members bringing their A-game in an attempt to win the coveted prize - a winners plaque that bears Angus's name. The competition is also a chance for colleagues to come together and enjoy a bit of friendly competition and camaraderie.
Over the years, the pancake competition has produced some truly remarkable recipes. From savoury options like spinach and feta pancakes to sweet treats like traditional lemon and sugar pancakes, there is always a diverse range of entries. The judges have a difficult job each year, as the standard of entries is always so high.
But the real beauty of the annual pancake competition is not just the delicious food, but the way it brings the team together. It is a chance for colleagues to remember Angus and celebrate his life, and it serves as a reminder of the importance of community and togetherness.
This year, pancakes included Surinder's chili cheese pancake, Faraz's Chicken Tikka with salad and Urmila's Paneer and Chicken pancake. Last year's winner, Laura created a pancake named "Pink Fantasy" which included mixed berries, chocolate and jam. Our Bristol depot was represented by Helen with her stupendous trio of pancakes, which included American style maple and bacon, a double cheese, pesto with prosciutto pancake and a chocolate and banana pancake to top it off.
At the end of the day, for the second year running, Laura was announced as the winner of the competition and was awarded the memorial trophy and a winner's hamper donated by Angus' father Tom.
Well done to everyone involved!