Outdoor event hire
Outdoor events are growing in popularity, even with our unreliable weather here in the UK. We all know that being outside is good for both our mental health and physical health. From outdoor conferences to festivals and outdoor weddings, if you're organising an outdoor event, it's important to keep your environmental footprint light. Hiring what you need, whether that be glasses, furniture or china, can help you keep plastic waste down - and anything hired from Allens Hire will be cleaned and reused again. Contact Allens Hire for all your outdoor event hire needs.
Outdoor furniture hire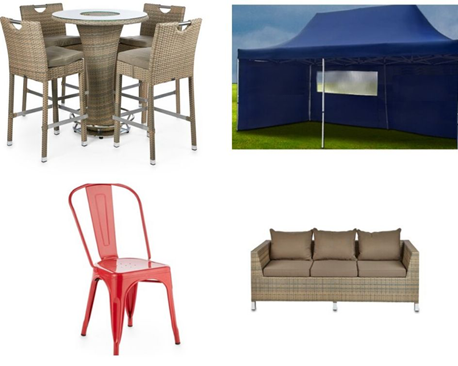 If you're looking for furniture for an outdoor pop-up, a wedding, a seating area for a festival or furniture for an outdoor conference, we have an array of beautifully designed and robust outdoor furniture to help make your venue as comfortable as possible. Choose from the highly favoured rattan furniture, classic wooden garden furniture and Tolix style Café Culture range of chairs, bar stools and tables.
The one thing every event organiser battles with when hosting an outdoor event is the elements. So to ensure your guests are as comfortable and safe as possible, don't forget to add parasols,  stackable weights (to keep those parasols in place) and a pop-up tent in case the rain decides to crash your event.
Whatever the time of year, everyone loves a barbecue. From the convenience of a gas BBQ or if you just love to cook on charcoal, we have a range of BBQs for hire that can cater for events large and small.  One trend we have seen in outdoor event is the popularity of food being prepared outdoors, For a bit of cooking theatre why not opt for a paella pan and burner set perfect for serving curries, jambalaya - and of course paella!
Bar furniture hire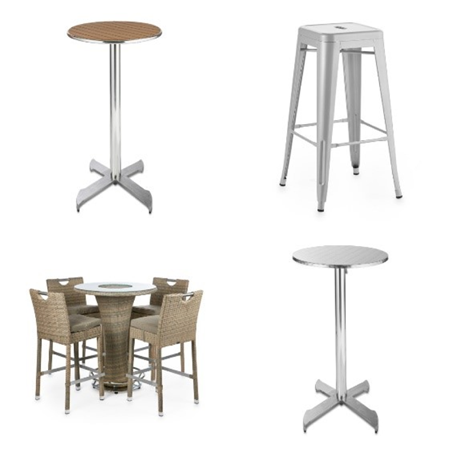 If you are setting up an outdoor bar area or an outdoor seating area, then you want stylish furniture that will not only look great but is robust enough to take whatever the elements decide to throw at it. Our latest collection features stylish rattan bar furniture, aluminium poseur tables and contemporary bar stools that are comfortable and welcoming to guests.
Glass hire and china hire for an outdoor event
Keep your outdoor event as waste-free as possible and use real glassware and china. From grape specific wine glasses to beer glasses and sprit tumblers, we have a range of glassware for hire that will complement any type of outdoor event. When you hire your glassware from us, we can deliver to your venue and we will also take care of the washing up! Just put all of the used glasses into the box they came in and we will take them away.
If part of your event involves a sit-down meal, then choose some beautiful china to set your table with. Whether you are looking for a rustic vibe or a touch of maximalist luxury, our selection of quality china will elevate your table setting. If you are looking to add a pop of colour then choose our Hue Design Coloured Glassware.
Outdoor furniture hire London
In terms of green space, London is one of the greenest cities in the world with over 35,000 acres - that's almost the same size as Liechtenstein - of public parks, woodlands and gardens. This means that the capital is ideal for hosting outdoor events. Whether you are hosting a garden party, taking part in a festival or organising a wedding outside - we can deliver the furniture, table linen and crockery you need to any outdoor venue, to make your event perfect. Contact Allen Hire today.