Wedding Equipment Hire
Explore All Our Wedding Equipment for Hire Here: China - Cutlery - Glassware - Furniture - Linen - Kitchen - Bar - Lounge
Allens have put together this lovely wedding equipment hire collection which is available to customers in and around London and the South coast. With wedding hire essentials such as graceful wedding linen, elegant bone china and beautiful wedding furniture, you can rest assured that we have everything you need for your special day. At Allens, we pride ourselves on both our award-winning service and high-quality, widespread range of product rentals suitable for wedding catering equipment hire, reception party lounge concepts and everything in between.  
We have depots in London, Southampton, Luton and Corsham (South West) covering all of the south coast.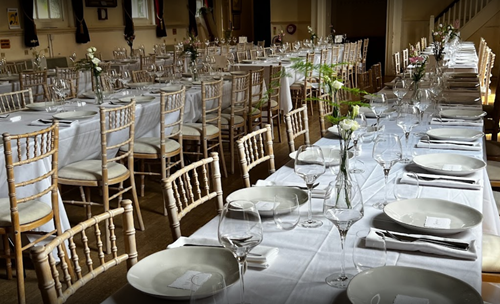 Wedding china, cutlery & crockery hire
Your wedding day is a once-in-a-lifetime occasion, and every detail matters. To create a truly memorable and elegant event, consider the importance of your table settings. We specialise in wedding crockery hire, offering a stunning collection of exquisite tableware that will add a touch of sophistication to your celebration. Our meticulously curated selection includes fine china, luxurious glassware, and elegant silverware that will elevate your dining experience. Whether you envision a classic and timeless setting or a modern and chic tablescape, our range of wedding crockery and wedding cutlery for hire is designed to suit various themes and styles. Let our impeccable tableware be the perfect complement to your carefully crafted menu, ensuring that your guests dine in style and create cherished memories of your special day. With our wedding crockery hire service, you can add that extra touch of elegance and make your wedding reception an unforgettable experience for all.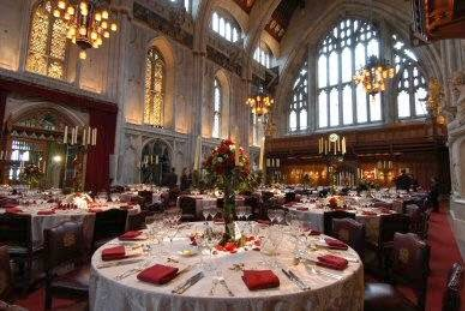 Having the right wedding china for your special day is essential. Your dinnerware sets the scene and no table is complete without a selection of complementary wedding china. At Allens, we have a vast array of wedding dinnerware for hire that will fit almost every style and theme. For a contemporary feel, opt for minimalistic white or square dinner plates. If your wedding is all about classical elegance, then choose William Edwards Fresco fine bone china – its beautiful pastel colours and graceful pattern are sure to make your food offering look as good as it tastes.
For many years, we have provided beautiful and durable wedding china hire to London and the south coast. We cater for any size of event, optimally supplying events for 600 guests but we can also supply small private dinners and large events for up to 1,500 guests. It is one of the reasons that we are amongst the most popular wedding equipment hire companies in the London and south coast area. 
Wedding table linen hire
We have been supplying our exquisite wedding linen hire collection to London and the South Coast for a number of years. Every wedding, large or small, can be accommodated with our carefully curated collection. If you are looking for luxury and sophistication then Brocade linen will make your table setting stand out. For simple elegance, the Matisse linen comes in a number of colours including snowdrop white and bright fusica. If you want a bit of bling, then opt for our shimmer range, which includes hues of champagne pink and silver shimmer.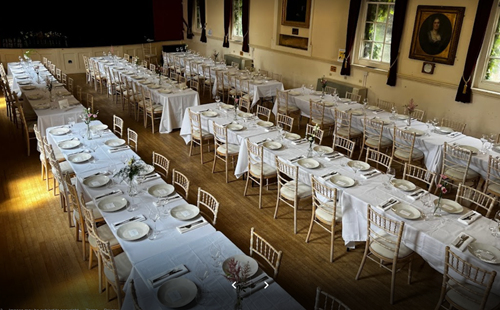 Our full wedding linen hire collection has a huge range of colours, which will fit almost every scheme imaginable. Explore the wedding linen hire collection from us today and choose from our vast array of linen in different colours to transform your wedding reception space. 
Wedding furniture hire
Discover our wedding furniture hire range today and find the right chairs and tables for your or your client's special day. We have a superb array of seating solutions that include gold banqueting chairs as well as chic tall black chairs. We also supply the popular Camelot chairs. Favoured by celebrities, these chairs have a simple classic grace, which has made them a perennially popular choice for wedding parties. Available in walnut, natural limewash and anthracite, these chairs stack easily and are robust. We don't just offer chairs and tables, you can also hire lounge or garden furniture from us too. Our collection includes sofas, coffee tables and rattan wicker garden armchairs, so you'll find whatever you need to create a beautiful relaxing space, inside and out.
For more information on our Wedding hire range, please feel free to get in touch with us here at Allens Catering Equipment and Furniture Hire today. You can call 020 8574 9600 (London) or 023 8065 2316 (South Coast) or send us an email at [email protected]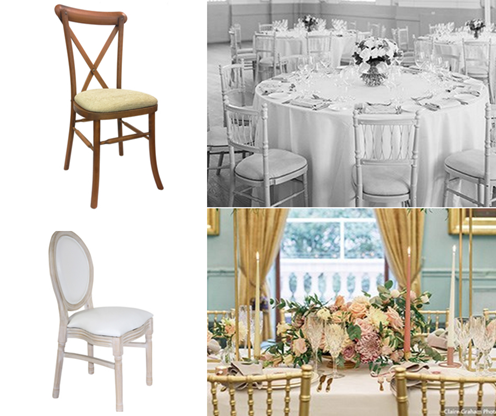 For wedding equipment hire in London and the south coast, you can find what you need for your event needs at Allens Hire. Contact us today!