At Allens Hire, we always keep our collections fresh. We also love all things vintage; the vintage trend has been around for a while and shows no sign of disappearing any time soon. From vintage chair hire to vintage china hire and vintage glass hire, we have some beautiful vintage style pieces that are perfect for any event where you need to channel a bygone era. Take a look at some of our hottest vintage style pieces:
Vintage china hire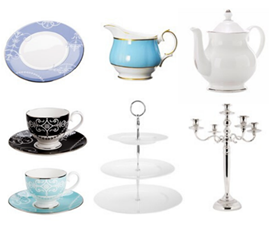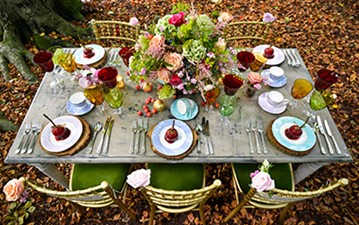 Perfect for tea parties, weddings, birthdays or any other vintage style event, our range of vintage china will help make your celebration unique. If you are searching for vintage tea cup hire, our range of exclusive William Edwards tea cups are the perfect choice, coming with matching plates in an array of pastel shades as well as striking black. Pair this range with our vintage cake stand for an elegant look that will have your guests whipping out their phone to take a picture.
To give your tablescape that splendid vintage feel, dress your table with vintage style candelabras and textured table cloths for that trendy vintage rustic feel. Coming in a range of designs that include three or five candle holders, these candelabras will add a dash of sophisticated elegance. Our range of vintage china hire is perfect for weddings, afternoon tea parties, which are gaining in popularity, birthdays and anniversaries.
Vintage china hire London
Allens Hire is located in London and we can deliver to any venue in any part of the capital. If you hire your vintage china with us, we can drop off and pick up your order after the event is finished – and best of all, you don't even have to make sure it's clean as we will do the washing up for you. So, if you are looking for vintage china hire in London, contact us today.
Vintage chair hire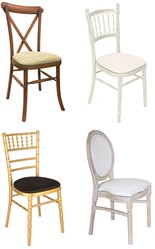 Whatever your venue, a vintage chair will give your venue an air of luxury. Beautifully designed and well made, our chairs can be customised for your event. If you're a fan of Escape to the Chateau, why not bring the elegance of pre-revolution France to your event with our Louis chairs and French Grey Chantilly chair. Perfect for historic or blank canvas venues, these chairs will lend your event a luxurious feel.
Mid-century design and brown furniture have been making a comeback in the last couple of years. If you're looking for a more pared back retro look, choose our Antique Wood Crossback chair. Featuring a more 20th century design, this chair is ideal for rustic venues or for pop-ups that are looking to replicate a more mid-century style design.
For a classic banquet event, choose our Gold Camelot chair; vintage in style and traditional in design, this chair will give your event a wow factor that your guests will love. Perfect for vintage weddings, corporate events and other special occasions. At Allens Hire, we offer vintage chair hire in London and can deliver to any venue needed.
Vintage glass hire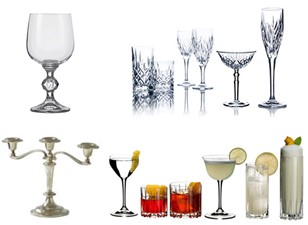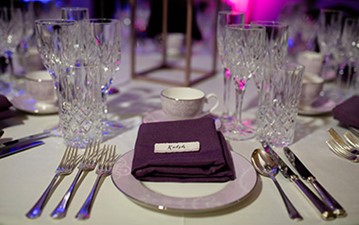 With 2020 just on the horizon, we will be looking back a century at 1920 and, whether you are holding a speakeasy event, a 1920s event or a vintage soiree, drinks will always be an important element. From prohibition cocktails to vintage wine glasses, our vintage glass hire with a 1920s twist means you can ensure that your theme runs into every aspect of your event.
From the 1920s to 2020, If you are holding a supper club, pop-up or event that has a 1920s or speakeasy theme, opt for our Riedel Bar collection. Featuring cut glass designs and the iconic Nick & Nora glass, this sophisticated collection is a must.
For the ultimate in maximalism vintage luxury, the Nachtmann made by Riedel collection is the best choice for any event where you want to hark back to a bygone era. Made from the finest crystal with a cut glass design, this collection features vintage coupettes as well as champagne flutes, red wine glasses, white wine glasses, highballs and tumblers.
Our selection of Crystal Goblets is vintage classic. Perfect for drinks events or for pop-ups and supper clubs, these glasses can be used for a variety of drinks that may be served and feature a lovely cut stem and base with a clear bowl. The crystal stem bounces candlelight beautifully, so why not embellish your tables with our three-candle candelabra? From vintage champagne glass hire to prohibition style glass hire, our beautiful vintage glasses will help to elevate your event.
If you love all things vintage, like we do, then contact Allens Hire for your vintage hire needs.