Corporate Summer Party Ideas
Corporate Summer Party Ideas
The halcyon days of summer are just around the corner, meaning it's the perfect time to arrange an event to bring your company or clients together. To help you plan the perfect summer corporate party, we have come up with a few ideas.
Vintage Garden Party
Put an old-time spin on a traditional garden party and make it vintage-themed, by encouraging everyone to dress up in vintage costume and maybe even hire a jazz band. You can bring a touch of the 1920s with rattan wicker garden furniture and serve tea or cocktails in vintage inspired teacups.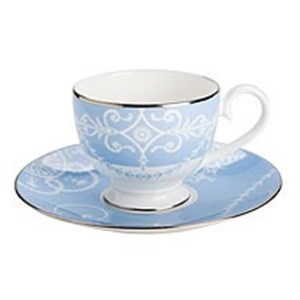 In keeping with the vintage theme, you could also serve wine, champagne and cocktails in sophisticated early 20th-century style Nachtmann glasses by Riedel. Light bites such as sweet treats and sandwiches will look great on a tiered stand, and we recommend getting some bunting, adorning tables with beautiful simple flowers, and for when darkness falls, fairy lights are perfect.
Top tip: When holding an outdoor event, always have a space that is covered in case of unexpected inclement weather.
Carnival
Colourful and lively, a carnival-themed party can really bring your colleagues together. You could even add a competitive element and have a costume-making competition! A carnival summer party calls for some bright cocktails served in coloured glasses. If you plan on having a bar area, our LED bar units light up in a number of colours and you can hire poseur tables, which can be draped in vibrant Matisse linen. Alternatively, you could make your tables shine with our collection of shimmer table cloths.
Top tip: Hire clashing and colourful bunting, inflatable palm trees and serve a welcome cocktail in a pineapple for maximum effect!
Casino
If you are looking for a theme that can be done indoors, a casino-themed party might be right up your street. Many companies hire casino tables and will give out free chips. A casino style party can let you go down a number of themed routes; for example, Monte Carlo, James Bond, prohibition and Las Vegas. If you want your guests to dress in their finest clothes, choose Monte Carlo or James Bond – or, if you want something a little more relaxed, opt for Las Vegas.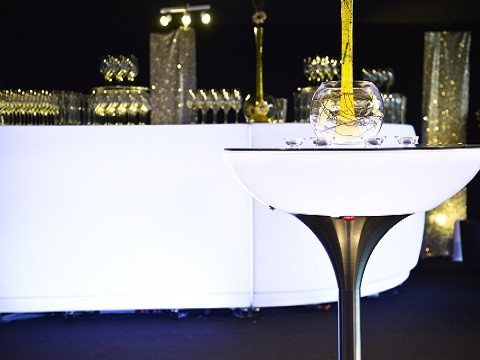 For a James Bond or Monte Carlo themed event, serve your wine in the subtlety of sophisticated Magnifico crystal, or if you want to be like the MI6 spy and have your martini shaken not stirred, opt for the Riedell Spiegelau martini glass. If you choose to go for a Vegas-themed event, hire one of our straight or curved LED bar units and serve sliders (mini burgers), buffalo wings and mini tacos on a range of our canape platters. If you want to hold a prohibition-themed event, you can hire the same glasses as recommended in the vintage themed garden party, and opt for 1920s themed furniture such as ascot medallion chairs.
Top tip: Create a themed cocktail as a welcome drink to help get people mingling.
Barbeque
A barbeque is a corporate summer party classic, but why not shake things up a bit and take a leaf out of our American cousins' book and host a barbeque cook-off? Split your colleagues into teams and see who can make the best burger. We offer gas and charcoal barbeques and can even provide the charcoal and gas canisters. If you are planning on hosting a cook-off, it is also possible to hire kitchen equipment, such as knives and chopping boards. Whatever you decided to do with your barbeque event, you will need outdoor chairs and tables. At Allens Hire, we offer an array of garden furniture, including pop-up tents and parasols, which will help your event go ahead without a hitch. 
Top tip: If you are holding a barbeque contest, it is easier to control heat with a gas barbecue than a charcoal one. However, using a charcoal barbeque will give your team more of a challenge!
Looking to hire catering equipment and furniture for a corporate summer event? Contact Allens Hire today!