Hiring catering equipment and furniture for festivals
Hiring catering equipment and furniture for festivals
Festivals are as much part of the British summer as rain and strawberries and cream. An estimated 1,000 festivals took place in 2016, covering the spectrum of music, food, drink, comedy and literary. Market research conducted by Mintel has estimated that over 40% of Britons went to at least one festival in 2015 and collectively spent £2.1bn. Festivals are now big business and they have moved on from a stage in a field – with many operating VIP glamping areas with pop-up kitchens and covered lounge areas. One option to furnishing these areas is to hire what you need from a professional catering equipment and furniture hire company. Not only does this save you money by not having to buy the equipment you need, but you don't have the worry of how you're going to transport it to your venue or store it.
Pop-up kitchens
Food is becoming central to many festivals. Gone are the days when soggy burgers with questionable meat content were all that was available. Now, top chefs, street food and innovative cooks offer delicious food for festival goers to enjoy. Some festivals offer optional banquets for an extra cost cooked by a celebrity chef.
To deliver mouth-watering cuisine, chefs need a kitchen. At Allen's we can provide pop-up kitchens with ovens powered by gas, as well as gas or  charcoal barbecues  Amongst our wide range of outdoor cooking equipment, we also have hog roasts and paella pans. Other kitchen essentials such as fridges, freezers, oven trays, saucepans and knives can also be hired.  Another benefit of hiring kitchen equipment for festivals you can leave the washing-up to us.
Glamping and camping areas
Camping in festivals has become infamous; every festival goer has a story about a bad or disgusting camping experience. For those who do not want to rough it, many festivals have opened VIP glamping and campaign areas. As part of their offering, these areas can include showers as well as lounge/chill out areas for glampers to relax in in-between shows.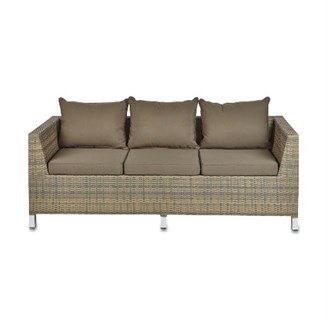 Many festivals like to hire garden furniture, like our rattan sofa and arm chairs as well as classic lounge furniture such as leather-like sofas, stools and coffee tables. Some glamping areas will have their own under cover bar areas. We can help here too, with LED bar hire and you can add poseur tables and stools from our collection if needed.
Keeping dry and warm
Festival and rain go together like a Pimms and lemonade on a hot day. Glastonbury is infamous for it and torrential downpours are the reason why wellies have become synonymous with festivals. So if you're running a bar, food stall or have VIP lounge area why not add a covered area to your space using a pop-up tent or gazebo; it's a cost-effective way to give your customers some temporary shelter from the elements. We have pop-up tents that range from 3m X 3m to 3m x 6m as well as large parasols to keep both the sun and rain at bay. As the evening wears on you might want to consider having patio heaters to help keep revellers warm whether they are enjoying a drink between bands at the bar or relaxing in the lounge area.
Need to hire catering equipment and furniture? Then contact Allens Hire today!