The rise of gin has been well documented. This drink, once seen as old fashioned, the preserve of grandmothers, has now has come back in style! Until Sipsmith opened their doors in 2009, there hadn't been a copper gin distillery in London for almost two centuries. Now, there are more than 10 distillers within the north and south circular alone.
One of the reasons for the trend is due to the personal preferences of bar tenders and mixologists. Tony Conigliaro of 69 Colebrooke Row, a speakeasy in north London, said to Stylist magazine "Gin is great to play with and manipulate. People are moving away from the anonymous tastes of the Eighties and Nineties."
Gin is made by mixing a number of botanicals with a mainly juniper base, this means that every distiller has their own secret recipe to bring their desired flavour to the fore. This gives bartenders and mixologists plenty of tastes and flavours to work with when mixing drinks.
Many of the UK's gin micro distilleries have their own signature way of serving the drink, but really, there are no rules. Here are some new and exciting ideas for serving gin.
Serve gin in a wine glass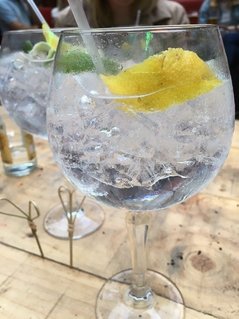 To make this work you need a large round glass such as the Riedel Veritas Oaked Chardonnay or you can use the Riedel O Stemless Cabernet Merlot glass. One gin brand that has popularised the gin-in- a-wine-glass trend is Liverpool Gin. When picking up this little number in bars, it is frequently served in a large wine glass with Fever Tree tonic, juniper berries and, in summer, watermelon. Serving gin with fruit garnishes and in balloon style wine glasses is popular in Spain, one of Europe's biggest consumers of gin.
Flavoured tonics
Riding in the wake of gin's meteoric rise is tonic. Tonic was usually given little thought, but now a whole host of premium tonic brands has come to the fore with many offering different complimenting flavours such as elderflower and lemon.
While you may think that buying a cheaper tonic makes no difference to the taste of the gin, it can affect it in many different ways. Many low cost tonics are made without artificial sweeteners, which can leave a bitter taste in the back of your mouth. Cheaper brands can also have larger aggressive bubbles, which can lead to the tonic getting flat quicker and no one wants a flat G&T!
If you are serving gin with a flavoured tonic, you might want to favour the traditional tall glass such as the Pimms Highball or if you want vintage glamour, opt for Spiegelau Long Drink glass.
Pairing gin with flavoured syrups
When it comes to gin cocktails, using homemade syrups made with botanicals such as lavender and rosemary are great way to create new fresh flavours. Many bartenders look back to the roaring twenties and the time of American speakeasies when creating gin cocktails, but what they serve them in are thoroughly modern.
Our top five glasses for gin cocktails:
1)     The jam jar: the humble jam jar glass has been popular for some time now. According to the Evening standard, due to austerity chic.
2)     The martini glass: The martini is the doyen of gin cocktails.
3)     Bubble blue glass: this one is a bit 'out there' but lots of fun
4)     Cut glass vintage chic: bring back that 20s feel with the Nachtmann from Riedel
5)     Twist tumbler: add a summer vibe to your gin creations with the twist tumbler
Are you hosting a gin event and are looking for glass and bar equipment hire in London or the south coast? Then contact Allens Hire today and we'll help get you sorted for your event.