The Snow Must Go On! - Allens employee hailed for helping struggling drivers tackle hazardous conditions
The Snow Must Go On! - Allens employee hailed for helping struggling drivers tackle hazardous conditions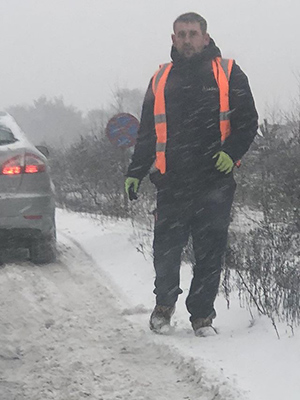 Konrad Laskowski, one of our dedicated delivery drivers at Allens, spent his cold afternoon helping fellow road-users on the A31 get to work on time on Thursday 1st March.
By helping to push numerous cars, stretching the length of the trunk road, to a safe place, Konrad not only helped his fellow drivers, but he also helped to prevent what could have been a devastating accident.
Not one to blow his own trumpet, we only discovered Konrad's incredible work in sub-zero temperatures when we received the following email from a fellow road-user:
"Hi, I just want to send you a message and tell how much of a credit to your business this man is!
 We have been stuck on the A31 for around an hour, this guy has been amazing!! He's been getting out to help people in front push their cars and when we began to move, and more people began to slide, he ran from his van (he was the passenger) to help push them to a place where they could get some traction to be able to pull away!! Happy and friendly the entire time and must have almost ran the length of the A31 by the time everyone got moving!!
An absolute hero today on what could have been a very scary journey!!"
Needless to say, we're incredibly proud to have such a helpful local hero working at Allens Hire, and we cannot thank him enough!