Trip the Light Fantastic at Your Party with LED Bar Units from Allens Hire
Trip the Light Fantastic at Your Party with LED Bar Units from Allens Hire
Have you checked out our brilliant new gallery of LED Bar Units at various events around the capital and the south of England? We've added a number of stunning images to show how much of a visual impact you can give you event, by building an LED bar just about anywhere.
Thrillingly modern and wonderfully colourful, LED Bar Units are perfect for glamorous events, including wedding parties, corporate shindigs and product launches. Thanks to these breathtaking and highly customisable bar sets, no matter what kind of venue you choose you can provide guests with drinks and also breathe new life into your surroundings.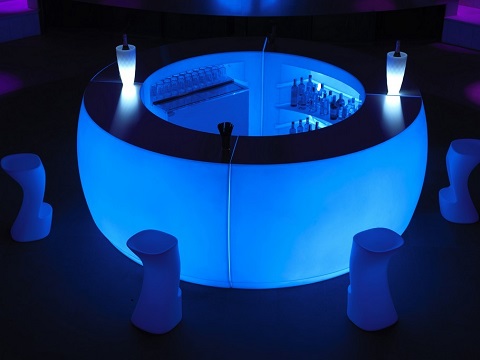 Straight and curved bar units can be combined to create any kind of bar area you would like. Best of all, each unit can be programmed to beam any of a large number of colours. It can even be programmed to transform from one eye-catching colour to another in so many patterns that the colour combinations are virtually endless.
Temporary drink service can be installed just about anywhere, indoors or out and always goes down well.
If you run a business, you could set up your LED Bar Unit to your company colours or even add your own branding to the fascia. It won't be quickly forgotten by visitors, and neither will your event.
Of course, you don't have to be holding a high profile corporate event to take advantage of these eye-catching features. The LED Bar Units available for hire from Allens Hire have been extremely popular at wedding receptions and birthday parties, providing just the right amount of glamour and spectacle to the party.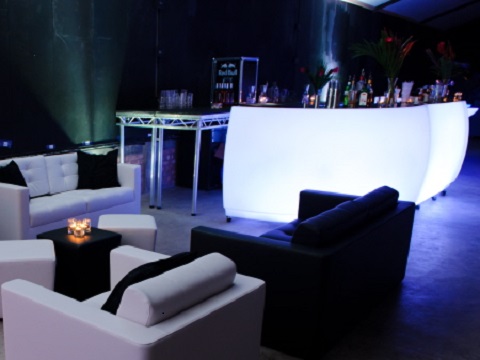 They can be grouped together with LED coffee tables, dining tables and poseurs, while a range of attractive bar stools and lounge furniture is also available to hire for any event in London, or along the South Coast.
For more information call 0208 574 9600 (London) or 023 8065 2316 (South Coast) or check out our LED Bar Units right here today.