Creative Ideas for Corporate Events
Creative Ideas for Corporate Events
Corporate events have a reputation of being dull, grey, uniform and tedious, however, it does not have to be this way. It is possible to have a corporate event that stands out, excites your guests and won't break the bank. Read our top three creative ideas for corporate events:  
Colourful China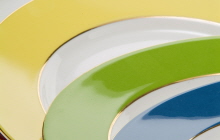 White china is a staple at many corporate events, and those who attend such events regularly won't even look at it twice. But by opting for coloured china or textured stoneware, those corporate regulars will look again, and you never know they may even whip their phone out for a sneaky tweet or Instagram picture.
If you want to jazz up the colour palette of your table layout take a look at our coloured china range, where you can choose between bold reds and purples or gentle pastel blue and dusty pink. If you're looking to create more of a statement then go for Jars Stoneware. As every Jars plate is handmade, each one is unique. The striking colours and texture will draw your guest's eye to both the food and table display.
Wine Tastings
Hemmingway said that,"Wine is one of the most civilized things in the world,"and perhaps this is why it's the drink of choice at events. When you're hosting a corporate event, breaking the ice between attendees who are not familiar with each other can be tough. This is where wine tasting comes in. Wine tastings create an informal and relaxed environment where attendees can learn about wine and also network.
Holding a wine tasting as part of your event? Then choose Riedel Veritas glassware. This collection is made up of grape specific glasses, which are designed to make the most of different grapes verities. Based in Austria, Riedel is one of the leading glassware makers in the world.
Central Networking Spaces
One of the main focus of corporate events is networking. To help facilitate this having a central area where attendees can sit down, relax, grab a refreshment and talk to each other is crucial. To create a laid back space you need lounge furniture. Think sofas, comfortable yet stylish arm chairs and stools. Having a bar in this area also gives guests a focal point, which to congregate around. If you're short on space then poseur tables are ideal for creating a network friendly environment.
Allens Hire are leaders in offering catering equipment and furniture hire to corporate events throughout London and the South Coast. Contact our knowledgeable staff today.