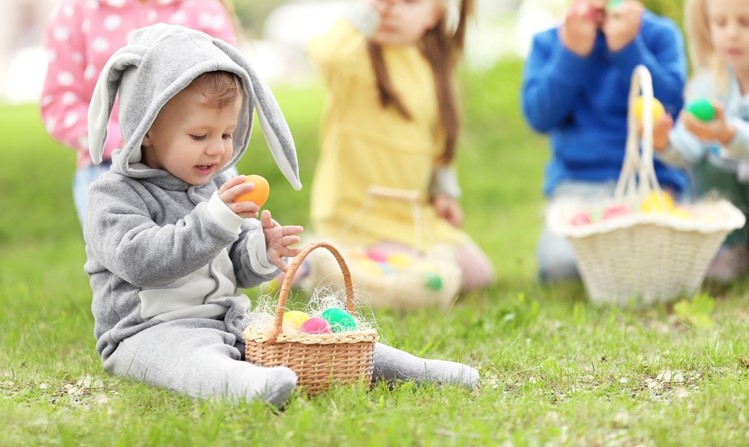 Easter is arriving a little late this year, and with Easter Sunday landing on 21st April in 2019, we're looking forward to enjoying some mid-spring sun. The Easter bank holiday falls on different dates every year because the date is calculated from the first Sunday after the first full moon following the Spring Equinox in March.
Easter is a time of celebration and not just for religious reasons, it is also a sign that spring is here, and that summer will soon follow. So why not celebrate with a fabulous Easter party?
Easter egg hunt ideas
Who doesn't love an Easter egg hunt! There is nothing more eggciting than running around the house or garden looking for little chocolate treats. For this to be a success you will need baskets, lots of chocolate eggs and some willing children or adults. 
Depending on the age of the children, you can add an extra fun element into the hunt by hiding clues with the eggs so it's more like a treasure hunt, or you can create a pirate treasure map for them to follow. Remember to adapt your Easter egg hunt to the ages of the children and if you have a mix of ages, pair off the younger one with the older ones. 
Family Easter tea party
If you are having an Easter egg hunt then why not finish off with an Easter themed tea party, featuring scrumptious bites such as scones, cake and delicate little sandwiches that both adults and kids will love. Don't forget to decorate your table with some beautiful spring foliage and some little rabbit figures.
What to hire for the perfect Easter tea party?
If you're planning a big Easter party with all your friends and family and their kids then you'll need to hire some extra plates, chairs, glasses, cups and linen, if needed. For a fun and frivolous Easter tea party, choose our William Edwards Fresco china – which features a colourful and playful design that will delight.
If you are hoping to have an outdoor event this Easter and need to fit everyone in your garden, then hire some garden furniture. Our rattan tables with glass tops are perfect for big family get-togethers. If you are having a garden party we recommend hiring parasols, they will protect you and your family both from any sudden showers and from the sun if we have excellent weather.
Celebrate Easter with chocolate
It might seem obvious, but why not have a chocolate theme party that features rich chocolate desserts or even savoury foods with chocolate – after all it's what they do in Mexico. Mole sauce, a Mexican delicacy, is typically made out of chilli, nuts, pepper, cinnamon, cumin and chocolate, and is served with meat, usually chicken. There are a huge amount of varities of mole, so choose a recipe that suits your dish.  Serve your mole inspired dishes on our rustic stoneware collection or you can opt to serve it tapas style. Deserts will look mouth-watering in our squirl dinner plate.
If you need to hire tableware, chairs or garden furniture for your Easter eggstravaganza contact us today!