Festive drinks to serve at a Christmas party
Festive drinks to serve at a Christmas party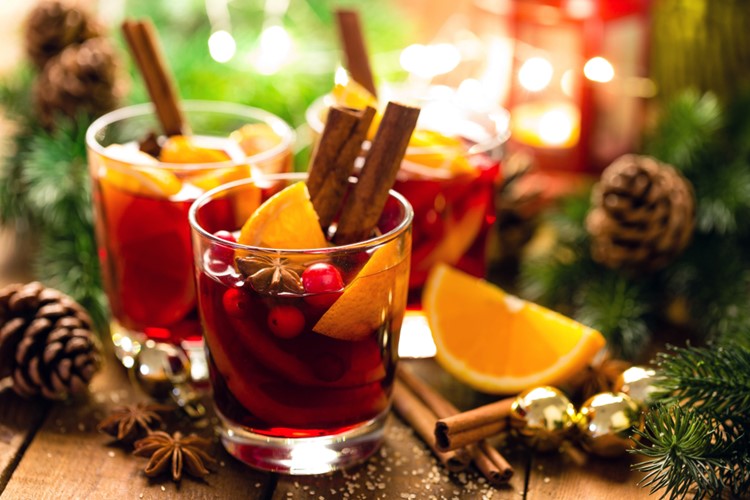 Celebrate the festive season with a winter-themed drink at your event. Whether you are looking for inspiration for your pop-up cocktail menu or you want to delight guests at your Christmas party, our festive drinks suggestions will go down a storm whatever type of event you are holding.
Festive fizz
Christmas and the new year is a time to celebrate, so why not offer your guests a fizzy tipple that will delight the senses. Prosecco is always a popular option at any party, so jazz it up with some bitters and cognac. If you want to create a festive fizzy drink with a British twist, why not get hold of some British sparkling wine and add some sloe gin and create a sloe royales.
What glass? For a sophisticated vintage vibe opt for the Imperial Sparkling Wine Glass made by renowned glassmaker Riedel. For a more contemporary feel, opt for the Open Up Flute.
Mulled wine
A classic for any Christmas party, a perfectly spiced mulled wine is the ideal welcome drink for a festive soiree. Always use good quality wine, BBC Good Food suggests an unoaked Tempranillo, and throw in some traditional spices such as cinnamon, star anise, cloves and lemon zest.
What glass? Mulled wine does not have to be served in a wine glass, good options include stemless wine glasses such as the Hue Design Coloured range and Liquor Coffee glasses. For a more quirky look choose a Jam Jar. 
Mulled cider
A drink growing in popularity, again, mulled cider is an ancient drink that harks back to the medieval era. Once known as wassail, mulled cider is now typically made with dry cider, Calvados and traditional festive spices such as cloves and cinnamon. You can also make a non-alcoholic version by using apple juice with traditional spices and honey for sweetness. 
What glass? Serve mulled cider in our Irish Coffee Cups or our Clear Glass Walled Coffee Cup.
Hot toddy
An Ideal tipple for a cold winter's night. This combination of whisky, honey, lemon, cinnamon and cloves will warm even the coldest of hearts. A good choice for any event that has an outdoors element.
What glass? A hot toddy is best served in an Irish Coffee Cup or Liquor Coffee glass.
Grown-up hot chocolate
Hot chocolate is delicious anyway, but why not pack a punch with a grown-up hot chocolate by adding some Irish cream, Kahlua or rum.
What glass? Choose from a playful Jam Jar, Irish Coffee Cup or a Clear Glass Walled Coffee Cup.
Winter whiskey sour
Whiskey is a classic winter drink and if you want to serve a winter whiskey cocktail we would recommend choosing the winter whiskey sour. Made up of the warming flavours of bourbon, fresh lemon juice, fresh orange juice and sugar syrup, this is a sophisticated cocktail that belongs at any Christmas gathering.
What glass? For a prohibition vibe, choose the Bar Rocks Glass or for cut-glass perfection, opt for the Nachtmann Noblesse Whisky Glass both made by Austrian glassmakers Riedel.
If you need glassware hire for your Christmas event, contact Allens Hire today.