Here Comes the B-r-r-ride! Ideas for a Winter Wonderland Wedding in 2015
Here Comes the B-r-r-ride! Ideas for a Winter Wonderland Wedding in 2015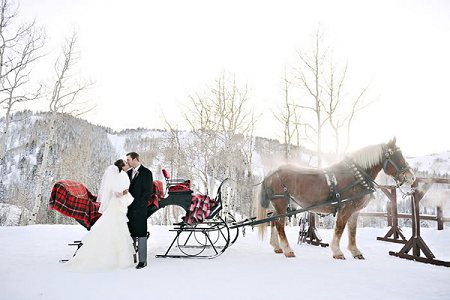 If you're prepared to brave the Great British weather, winter weddings can be even more magical and romantic than their summer equivalents; and they can be a lot more cost effective too.
1. Outerwear and Dresses
Winter weddings in the UK are certainly diverse but one thing the vast majority have in common is the fact that the weather is likely to be at least a little chilly. That's why it's such a good idea to think a little bit beyond the traditional wedding dress.
Earlier this year, actress Olivia Palermo wore a sophisticated knitted jumper on her big day and it may be a good idea to follow suit.
Wedding guests should also be encouraged to think about outerwear and blazers, shrugs and pashminas are all popular at winter weddings. Hosts may even wish to provide blankets for guests to huddle under between photo opportunities or perhaps even during.
Along with dark evenings and cooler temperatures winter brings the opportunity to use darker shades and stronger tones in bridesmaid's dresses. Part of the fun of planning a winter wedding is the opportunity to use a little more imagination and try something unique. Which colour will you choose?
2. Food and Drink
The wintery wonderland theme can work its way into every aspect of a wedding celebration and food and drink are among the most important things at most weddings, winter or otherwise.
Instead of a cool glass of bubbly to greet guests at the reception, after they've waited patiently in the cold, why not treat them to a glass of rich and creamy hot chocolate or tasty mulled wine?
 Even the wedding cake can undergo a magical wintertime transformation despite being such an important part of the traditional wedding celebration. Incorporating tasteful amounts of festive colour will make for an unusual cake display, or if you'd prefer to keep things clean and white, a selection of tasteful decorative snowflakes can be arranged on the cake instead.
3. Everything Else
From invitations to place cards and decorations, winter can creep into all aspects of your celebration and make things all the more special. Perhaps the most important thing to bear in mind is that while bad weather is a possibility, it should be embraced not dreaded.
Somebody once told me it's the people that make the wedding. Not the hair, or the makeup, or the clouds in the sky. If you surround yourself with the right people and remember the things that are most important, no amount of wind and rain will prevent you from enjoying the single best day of your life.