Hosting An Outdoor Event - Master A Garden Party Celebration
Hosting An Outdoor Event - Master A Garden Party Celebration
From a rooftop Champagne brunch to a romantic outdoor wedding ceremony, outdoor events are a wonderful way to give celebrations a more relaxed and natural aesthetic. But being amongst nature doesn't come easy, as most event planners will know. While you might save on decorations since your backdrop will likely be a manicured garden of a stately home, planning and preparation will often be more complex since you'll need to hire most of the event furniture, tableware and linen.
Plus, there are other factors to consider when raising a glass outside, such as guests becoming cold, entertainment struggling to be heard and having limited access to plugs for sound systems and lighting. But don't worry, as industry experts, we've put together our 'Master a Garden Party Celebration' guide to help event planners and independent clients throw the ultimate special occasion amongst Mother Nature. So let's get into it!
Choosing The Right Garden Party Venue
When you start exploring garden party venues, you should always have a checklist of what you will need to host your upcoming celebration. For instance, the venue might feature a stunning wishing well amongst a sensory garden of a grand stately home, but;
Would you be able to assemble a pop-up bar to serve guests cocktails on arrival?
Can you plug in lighting and a sound system if required?
Would your guests have easy access to a bathroom during the event?
Will guests be able to park their cars nearby and easily walk to the venue (in cocktail dresses and heels)?
Do you need the venue to be wheelchair or pram-friendly?
Write down exactly what you and your guests would need from a venue before you start visiting outdoor event locations so you're not overwhelmed by its rustic charm!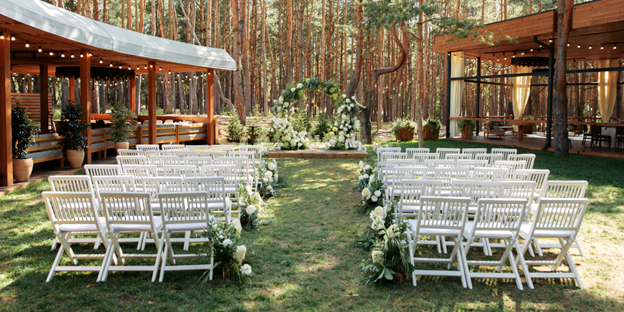 Seating Is Essential For Outdoor Events
Let's say you're the event planner for an outdoor baby shower. In this case, comfy seating will be essential as both the mother-to-be and her friends will need to sit down and relax during the celebration.
Suppose you're planning a romantic outdoor wedding during the summer. In this case, you'll need enough chairs to accommodate all guests and have them positioned in a way that creates an aisle, for instance.
Perhaps you're planning an elegant garden party to mark an anniversary. If the guests are going to be sat down to dine together, then you'll need a long dining table and chairs to make this happen.
Seating is key to any outdoor event, as, without the opportunity to sit down, guests may become uncomfortable standing up and start leaving early. And don't forget to provide ample shade, such as umbrellas and tents, for guests during the hottest months of the year!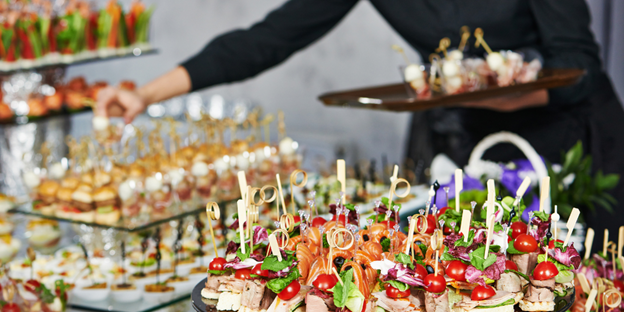 Catering Is King
Let's be honest; an outdoor event's success is strongly determined by the catering provided. In fact, the food you serve and how the food is served to guests can make or break the event itself, no matter how much effort you put into the decor. So, always invest in quality food that has serious flavour and taste and appeals to all.
For outdoor events and even outdoor weddings, a BBQ is often the best way to feed large groups quickly. Plus, who doesn't enjoy the smoky aroma of a BBQ during the summer months? So, if you're planning a garden party, a corporate event outside or rustic outdoor wedding, consider hiring a couple of BBQs and grill up a storm al fresco! From spicy chicken thighs and sweetcorn to succulent steak and grilled seabass drizzled with lemon, watch as your guests line up, eager to taste what's on the grill.
 You must also serve several different options of food too, just in case some guests prefer vegetarian or vegan food over meat and fish. By covering all bases in this way, you'll make sure that your guests have a delicious experience at your celebration.
And don't forget about dinnerware. Serve starters on silver beaded glass plates for a sophisticated fine-dining aesthetic, or if you're serving afternoon tea for a garden party, then hire a cake stand.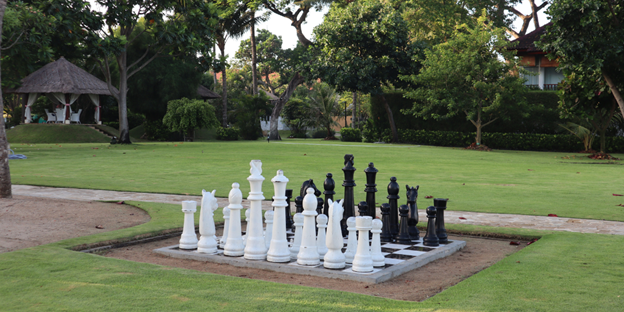 Entertainment Can Be Tricky Outside 
Now, let's move on to entertainment. As we mentioned before, this can be challenging, especially if you have limited access to WIFI and plug sockets, but that doesn't mean you can't keep guests entertained.
For family-friendly garden parties and outdoor weddings, consider garden games such as giant connect four, croquet like in Alice in Wonderland, or a massive chess set on the lawn. Not only will these weather-proof games keep little ones happy, but they can also enhance the overall look and feel of your outdoor celebration. Think of them as both entertainment and decorative items in one! In fact, you might even see guests start to take selfies and videos with them!
Another way to entertain guests when outside is by hiring an LED bar to serve drinks. LED bars are a unique and modern way to serve beverages and will add a touch of sophistication to your event. These bars are equipped with LED lights that can be customised to match your event's theme or colour scheme. The lights can also add ambience and create a festive atmosphere to your upcoming celebration.
Team this with a signature cocktail created to commemorate the special occasion. You could even name the cocktail after the host for a more personalised touch. Serve in stunning glassware, also available to hire for events and special occasions from Allens Hire, and welcome people on arrival, whether it's a wedding, corporate function or something else.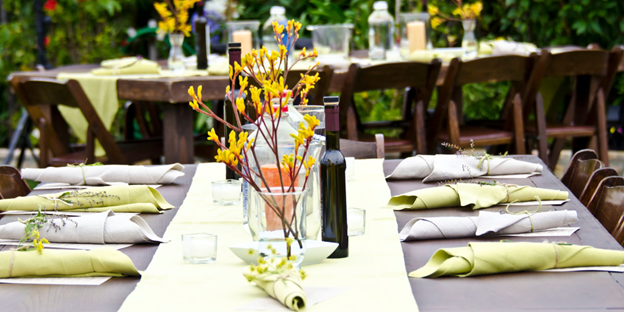 Final Thoughts On Outdoor Events
While it's true event planners simply can't control the weather, planning an outdoor event or outdoor wedding ceremony can be made easier by thinking ahead, being strict with your venue requirements and hiring everything you need for the special day. At Allens Hire, we specialise in helping event planners and individuals throw memorable events and weddings. With the ability to supply all your catering equipment rent requirements from dinnerware, cutlery, glassware, linen, furniture and even LED bars and garden games from our team, you can make a serious statement when it comes to your next al-fresco celebration.
So, if you are organising a small outdoor soiree, or a larger afternoon get-together, be sure to reach out to our team at Allens Catering Hire today.