How to host a corporate event
How to host a corporate event
If you've been tasked with planning a corporate event it can be stressful! Whether it's the annual Christmas party, summer bash, a client soiree or an investors dinner, you need to think about the venue, food, drink, furniture, catering equipment and how will your guests get to the venue – maybe even book hotels! Get your thoughts together by reading our guide to hosting a successful corporate event.
Don't do things at the last minute
Organising an event at the last minute is a recipe for trouble. If you leave things too late chances are all the best venues are booked. If you are hiring furniture and catering equipment you might not get the products that you want – meaning you might have to compromise on quality. Caterers also get booked up in advanced, so make sure you give yourself as much time as possible when organising a corporate event.
Venue
You will want a venue that'll impress. Luckily Central London is awash with show stopping venues – some evoking the grandeur of days gone by and others are modern, sleek and sophisticated; showcasing the best of contemporary design. When you are booking your venue check that it's easy to get to and close to a tube or train station. Easy access can help keep attendance levels high.
Once your venue is booked check if they can supply all the furniture and catering equipment you need. Not all venues do. If not you will need to hire it.   
Hiring furniture
If a venue doesn't have its own furniture, then hiring is the most cost effective way of furnishing your event.  It can also be a way of bringing something unique to a venue that has furniture but it doesn't quite tick your boxes.  Unless you want to be like the woman in the Amstel advert, who has to share her life with 400 chairsthe answer to your problems is a furniture hire company.
If you have the space make room for some lounge furniture such as sofas, armchairs and stools. Ideal for a pre and post dinner break out area, where guests can mingle in comfort.
If you are having a drinks event then use poseur tables for guests to rest drinks on and congregate around.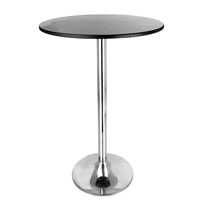 Once you have chosen your tables, it's time to choose the linen. Linen, can be used to jazz up poseur tables and is the canvas for your table layout; as seen in the top image.
Hiring catering equipment
As with furniture you need to overestimate the number china, crockery and glasses you will need. This makes sure you are covered for any breaks or mishaps. If you are serving a special dinner with a wine paring, then opt for glasses that complement the wine such as those from Riedel, world famous for glass production including thecreation of wine glasses that are tailored to specific grape varieties.
If it fits with your theme be creative with your china. If you want to create a bold display then opts for Jars stoneware plates. If you are opting for elegance but don't want traditional white porcelain then take a look at Minoprio Coloured china.
If you are serving canopies, think about the tray you are serving it on. Does it enhance the offering? Use range serving trays for you canape menu.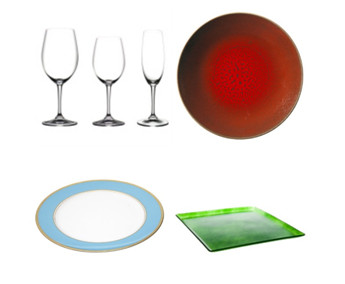 It might still be summer but it's not too early to book for what you need for a Christmas event or one next year. If you need any advice on what would be best for your event then feel free to contact us on enquiries@allenshire.co.uk or call our London office on 020 8574 9600. Alternatively, you can call 02380 652316 if you are based on the South Coast.  We also have an online chat service available during office hours.