Pimm's O'Clock: How to Plan a Garden Party
Pimm's O'Clock: How to Plan a Garden Party
As the days lengthen and the mercury rises it's time to throw open the doors and enjoy a bit of outdoor entertaining. The great British summer would not be the same without the quintessential garden party; an event that cries out for Pimms, perfectly cut cucumber sandwiches and fresh colourful salads. If you're planning on having a garden party whether it's for your friends and family, a corporate summer bash or a pop-up event then don't miss our top tips on how to plan a garden party.
When choosing your furniture from a hire company, for a garden party, think about what kind of event you are holding; is it a drinks reception, sit down dinner, canapés or barbeque?
Sit down dinner, buffet and barbeque
If you are holding a sit down outdoor dinner, buffet or a barbeque make sure you have enough seats and space at the table. A round wooden table (see below) should comfortably seat four people and is perfect for a sit down dinner.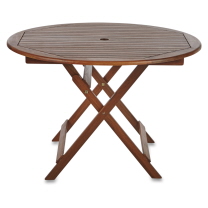 Drinks Reception
If you are holding a more drinks focused event such as a cocktail and canapés party having café tables on a patio or poseur tables means your guests will have plenty of space to rest their drinks.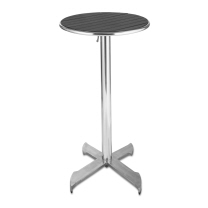 Relaxation area
No matter what kind of garden party you are having, ensuring there is some relaxation space is important. If you are having a sit-down dinner, a relaxation area is the where your guests may congregate before or after dinner. For a drink reception it's another area for your guests to sit and enjoy the evening. Rattan wicker furniture, which is currently in vogue, is perfect for creating a relaxation area.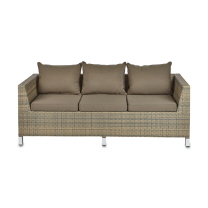 Table layout
If you are holding a garden party, that includes a sit down dinner, then you will need to think about a table layout. Like summer flowers, a garden party should be colourful, opt for more colourful plates such as William Edwards fresco.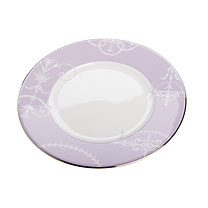 When it comes to glasses you will need a mix of wine glasses, tumblers for cocktails, long glasses for pimms and water glasses. When laying out a table for a garden party keep in mind that you may need an umbrella for shade and if laying out glasses a gust of wind could cause them to blow over and break so it's best to place them upside down. This also keeps bugs from getting inside.
Decorating for a Garden Party
You can have a real sense of fun when decorating the garden or outdoor space for a garden party. Before you start pick a theme, this will help you stay focused. A popular way to decorate a garden is with bunting, paper pomp pomps, hanging baskets, lanterns and garlands.
Lighting is also something you may need to consider. You can use solar powered fairy lights, candles or solar powered jam jar lights.