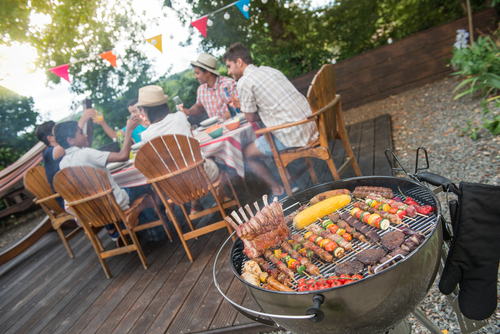 May Day Bank Holiday is just around the corner and temperatures are set to soar. So, why not take advantage of the good weather, whilst avoiding the crowded beer gardens, and consider hosting your own May Day Bank Holiday BBQ at home? Whether you're planning an upscale event with a larger guest list, or a more intimate 'do' for close family and friends, hosting a BBQ will still require some planning, so here are three things you definitely need to think about to ensure your May Day Bank Holiday is a successful one.
Seating arrangements
Before you can even think about what food you're planning to serve at your BBQ, the first thing you need to organise is enough seating for all of your guests - after all, there's nothing more difficult that trying to eat a stacked burger whilst standing up! Our Rattan Wicker Chair, with or without a cushion, is a stylish addition to any garden, and a truly comfortable option for guests of all ages. It's also a great option if you're looking to mix and match your seating arrangements, pairing perfectly with our Rattan Wicker Sofa with 6 cushions, and our Rattan Wicker Armchairs with 2 Cushions.
Setting the table
May Day décor is all about bold colours, bright floral arrangements and classic china. Start by choosing a colourful tablecloth with matching napkins and build form there.  Our Villeroy & Boch Stella range, offers a collection of crisp white fine china plates, teacups and saucers that are perfect to welcome the start of summer. And don't forget to add a touch of sparkle to your bank holiday by hiring champagne flutes to serve bubbly in – after all, it's not every week you get to enjoy a three-day weekend! 
The menu
Finally, the most important part of any successful BBQ; the food! Planning a quality BBQ menu can sometimes feel a little overwhelming, but start with the essentials; burgers, sausages, buns – and of course don't forget to hire the BBQ itself. Once you've got the basics, you can put your own unique twist on BBQ food; think about seasoning, making sure there's both a hot and mild option, and don't forget to include an option for any vegetarians or vegans that might be attending.
Finally, to keep your guests happy long after the BBQ has been switched off, have a selection of, cakes and pastries to proudly serve on our Square China Three Tier Cake Stand to make sure they look as delicious as they taste.