Office Halloween party ideas
Office Halloween party ideas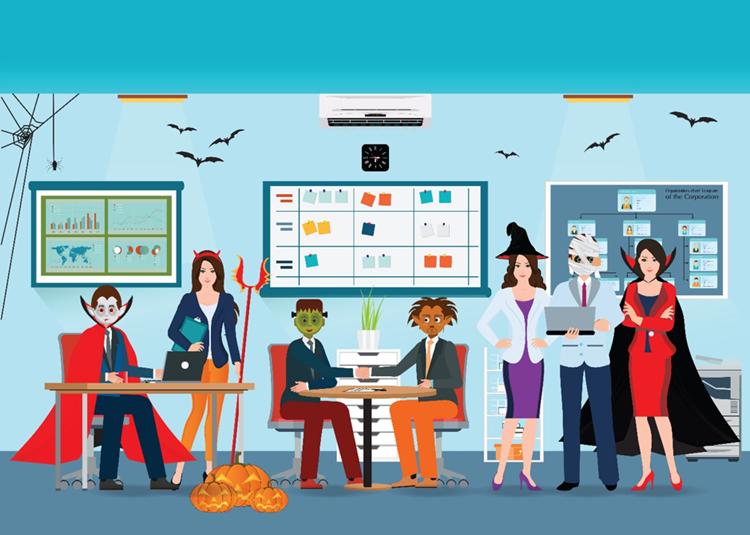 Halloween is always a fun celebration; a time to let your hair down, indulge in a spot of dressing up and let yourself have a little scare. This spooktacular event is a great way to get everyone in the office together to enjoy a drink or two and relax before the whirlwind of Christmas takes over. If you have decided to host an office Halloween party, here are some ideas to get you started.
Office Halloween ideas
Dressing up
A Halloween party is not a Halloween party without a spot of dressing up. You can choose a theme such as horror movies, or just let your team's imaginations run wild and let them dress up as whoever or whatever they want. Bring an element of competitiveness to the party and have a dressing up competition complete with prizes.
Create a cocktail
Hire some cocktail glasses, buy some booze and get your colleagues to create some frighteningly delicious cocktails – oh, and don't forget to add some dry ice for an appropriately spooky effect. This can be a great way to break the ice and get your colleagues talking and working together.
Halloween themed pub quiz
Who doesn't love a pub quiz? Split your colleagues into teams and get their competitive juices flowing with a Halloween themed quiz and punctuate each round with a fun party game such as bobbing apples where partygoers can win points for their team. 
Halloween bake-off
Taking inspiration from Helena from this year's Great British Bake Off, why not host a Halloween themed baking competition? Everyone will love getting stuck in especially when it comes to judging.  From pumpkin cookies to chocolate-covered witches' fingers and scary illusion cakes, take a look at Helena's Instagram if you need any inspiration. What better way to boost morale in the office?
Glass hire for office parties
If you are hosting a Halloween party in your workplace or another venue, then why not help reduce your plastic consumption and hire the glasses that you need. Whether you want wine glasses, beer glasses or tumblers for spirits, our glassware hire service is easy to use - and you don't even have to worry about the washing up. Just load them all back into the cases that they come in, and we can pick them up when you're finished. Not sure how many glasses you need? Then contact us today and we can help you with everything you need to throw a memorable office Halloween party.