A guide to the 5 kitchen equipment essentials for catered events
A guide to the 5 kitchen equipment essentials for catered events
Are you planning to cater for an event for the first time and not really sure where to start?
If so, you have come to the right place because today's blog aims to introduce the 5 things you can't afford to forget about when serving food at a conference or corporate event.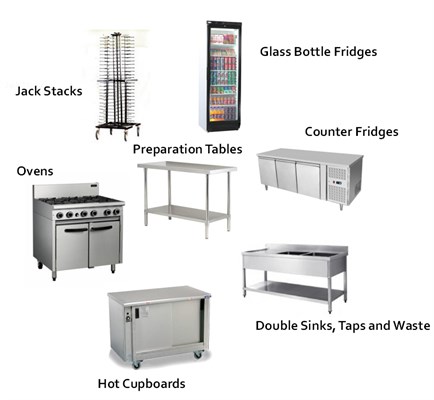 Of course, in truth, you're going to need considerably more than 5 things to cater an event, but the things you need fall into a few important groups and we can provide them all, whether you need them for a day, a weekend or a week.
1. Fridge and freezers
From a small bottle fridge to a walk-in cold room, if you're serving any kind of food and drink, you're going to need some cold storage. This isn't a nice-to-have: it's an essential -- especially where food hygiene is concerned.
Decide on your food options or menu and then select fridges or freezers to accommodate all of your food needs for the duration of your event.
2. Electrical appliances
When it comes to making your cold things piping hot to serve, you're likely to need an assortment of electrical items, from ovens and microwaves, coffee machines to griddles and deep fat fryers.
Electrical chafing dishes are high on buffet shopping lists and soup tureens are ideal for indoor and outdoor events where some hearty, homemade soup can warm the stomach and the soul. Once the food is prepped, you'll need a variety of equipment to keep it that way. Heated tabletops and lamps are popular food service accessories and a variety of heated cabinets are available so you can serve your meals and warm dishes.
3. Gas appliances
Sometimes, however, the old ways are best and nothing beats a good old fashioned charcoal or gas barbecue on a summer's day at an outdoor event. A wide variety of grills and griddles are available, and for more exotic tastes, you could even pick up a paella pan and burner set.
Safety and fuel are always important when working with gas appliances. All our gas appliances are safety checked before each and every hire and instructions are provided to ensure that customers can operate them safely too.
4. Stainless steel
It isn't unheard of for event planners to forget some of the smallest or simplest things they need. It could be a serving dish, a soup ladle or a sugar bowl, but if it isn't there when you need it, you'll know about it.
That's why stainless steel kitchen equipment can't afford to be an after-thought. Cast another eye over your menu for the day and make a list of all the steelware you need.
5. Display stands and presentation pieces
It won't change the flavour, but the way you present your food options can still make a big difference. From cake stands to candelabras, there are a wide variety of presentation pieces which are staples of the catering industry. The things you need will depend on how you intend to serve your refreshments.
Are you serving a sit-down meal, a buffet selection or just some snacks or canapés? If you're serving a full catered meal, you'll have to think about your table settings, right down to an attractive centrepiece. If you're simply handing out some refreshments, think about the number of trays and other accessories you'll need to get them from A to B.