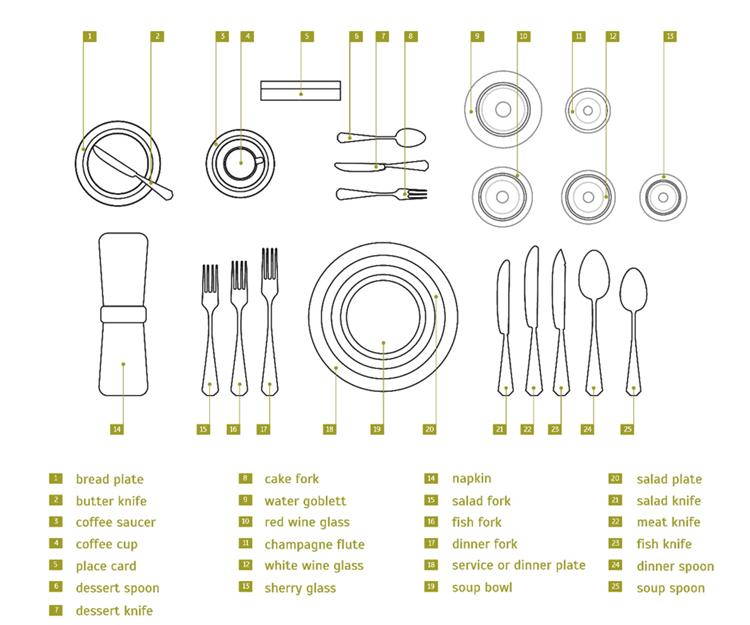 In James Cameron's Titanic, Jack (Leonardo DiCaprio) is invited to dinner at the first-class restaurant after saving Rose's (Kate Winslet) life. When he sits down for dinner he's confronted by a bewildering array of cutlery. Molly Brown (Kathy Bates) informs Jack that, you start from the outside and work your way in.
How cutlery is set and which one to use when is not as complicated as it seems, as Jack finds out thanks to Molly Brown. The basic rules are:
Place forks and knives in order of use and only set out cutlery that will be used
Forks go to the left and knives to the right of the plate
Spoons go above (except soup spoon)
Formal table setting
For a formal table setting, it is likely that a diner will be enjoying a number of courses. As stated above, knives and forks (and soup spoons) should be placed in the order of use with the utensils for the first course on the outside and ending with the dinner knife and fork (or whatever is appropriate). Desert forks and spoons can be placed above the plate.  If there's enough room they are however also often placed in the appropriate sequence to the side of the plate, fork to the left, spoon to the right.
If you are serving a fish course a fish knife and fork will need to be set in the appropriate sequence. If you are serving bread as part of your meal you will need to lay a butter knife across the bread plate
Informal table setting
If you are having an informal table setting, you will still need to follow the basic rules above, however, it is unlikely you will need as many items of cutlery. For an informal setting, you will only need a dinner knife and fork and maybe a dessert spoon or fork.
Whether you are organising a formal dinner or a casual affair, you can find the perfect cutlery to hire from our collections.
Our favourite cutlery hire collections
Robert Welch cutlery
Robert Welch is one of the UK's leading cutlery brands. Designed in the heart of the Cotswolds, Allens Hire has commissioned exclusive designs from this sort after brand. With three designs to choose from that include the sparkling Palm cutlery, the exclusive Westbury cutlery and the sleek Iona set, your table setting will look stunning no matter the theme of your event.
Gold cutlery hire
Add a touch of luxury to your table with our Sambonet Versailles Gold Cutlery set. Taking inspiration from Europe's most decadent palace, this cutlery collection is perfect for a formal dinner and when you want to impress.
Levite cutlery
For a simple yet contemporary look, opt for our Levite cutlery set. It's curved lines give this set an eye-catching visual effect which is perfect for awards ceremonies, wedding or charity dinners. Made from stainless steel, match this elegant set of cutlery with our range of china.
If you need to hire cutlery for an event then contact Allens Hire today!