Latest trends in china and cutlery 2016
Latest trends in china and cutlery 2016
What food is served on and what you eat it with is just as important as the food itself. As we eat with our eyes as much as our mouths, presentation has become paramount. A study by the University of Newfoundland in Eastern Canada discovered that specific plate shapes and colours interact to influence taste perception. To help you achieve the best possible table layout for your event, we have rounded up the latest trends in china and cutlery.
China
Organic Minimalist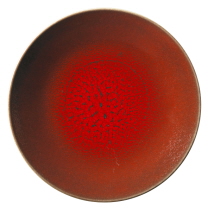 The bible of interior decorating that is Decorist has picked handmade ceramics as one of its top trends for 2016. The website recommends trading in "your everyday dishware for handmade ceramic dishware. The matte finish and organic shapes can add so much more beauty to your meals." The key to getting this look right is to keep it simple and clean – let the material your table is made of shine through and don't over clutter with crockery, glasses, centrepieces or condiments. 
One of the leading lights in the handmade ceramics world is the French pottery company, Jars. Since 1857, Jars has been synonymous with design, craftsmanship and quality. Each piece is handmade and passes through the hands of ceramicists 17 times before it is allowed to leave the factory. Jars' bold colours and textures give your table layout a unique look – especially as each plate is not quite the same as the next.
Glass
If you are serving canapés, the dish they are presented on will influence whether a guest will pick one up or not. The Riedel Bossa Nova canapé plate is designed to create a 'desire for more.' Based on the Brazilian dance and music movement also called bossa nova, whose sound was epitomised in the 1960s with cool jazz, this woven glass plate is Riedel's interpretation of this playful and joyful musical experimentation.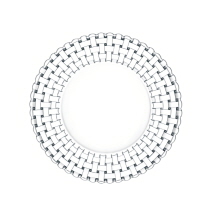 Cutlery
Cutlery usually plays second fiddle to china, however, how these essential tools look and feel can influence the eater. Many chefs take cutlery choices seriously, such as David Wykes, head chef and owner of Verveine, an award-winning seafood restaurant in Milford-on-Sea. Wykes states:
"A great idea on the wrong plate or the wrong cutlery isn't a great idea; the continuity has to flow from the dish to the plate to the cutlery to the service to the ambience and finally, to the identity of the restaurant."
When it comes to styles of cutlery, combining traditional styles with the modern material is the way to go. Allens collection of King's Electro Plated Nickel Silver (EPNS), has the classic vintage detailing of the scallop shell and honeysuckle flower, which is the same design that was created for King George III. If you want a more modern look you can opt for Grecian Cutlery EPNS, which takes its design influence from the art deco period.
If you want to combine style and craft then Robert Welch's cutlery is the one to choose. Made of fine stainless steel and decorated with a palm motif, Robert Welch's award-winning cutlery plays with light as it creates unique highlights and shadows influenced by room's light levels and seating position of each guest.
If you need to hire china and cutlery for your event then Allens Hire can help. With an array of different styles, collections and colours to choose from we can help you find the perfect plate and flatware for your menu. Contact us on now for more information.