Top tips on dressing a bar area
Top tips on dressing a bar area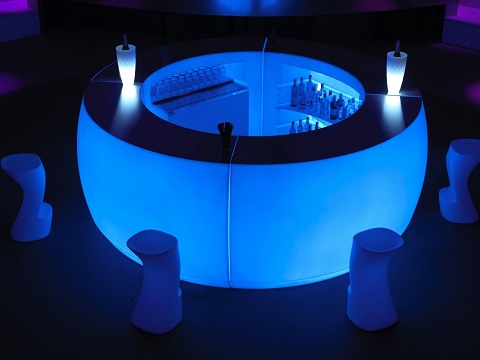 If you are having an event where you are hiring a bar and creating a bar area from scratch, then you will need to hire bar furniture to dress your venue. Whether it's a bar inside a marquee, an outdoor event or an unconventional indoor venue, our top tips will help you create a bar area your guests or clients will love.
Bar Hire
A simple solution for creating a functional bar area is to hire a bar unit. Once you have chosen your bar unit, think carefully about where you are going to place it in the space you have. Your bar will become a focal point, you need to make sure it sits well in the space and works practically, as well as aesthetically.
If you need bartending tools and accessories, you don't need to go out and buy them. It is possible to get bar equipment hire from a hire company and have everything you need without having to worry about storing it after your event. Depending on the type of event you are having, you may need:
Cocktail shakers
Bottle openers
Bar measures
Strainers
Ice buckets
Optics
Cocktail glass hire
Parties always need drinks and drinks need glasses. Hiring glasses for your event is a great option; not only don't you have to worry about the cost of purchasing glasses, you don't even have to wash them up! Using hired glasses also helps to cut down on waste and single-use plastic. Using real glasses, as opposed to plastic ones, not only gives your event a scene of quality, but it can also make your drink offering taste better – especially if you opt for speciality spirit and wine glasses from top brands, such as Riedel.
If you are planning on bringing in mixologists to create fabulous cocktails to wow your guests, then opt to hire a mixture of different glasses, that include:
Martini glasses
Tumblers
Jam jars
Ballon glasses
Hi-balls
Shot glasses
Poseur table hire
While the bar itself will be the focal point of your bar area, you will need somewhere for your guests to mingle and enjoy their drinks. Hiring poseur tables will give your guests somewhere to congregate and something to rest their drinks on. Poseur tables come in a number of designs, so choose the right one that suits your theme and venue. Don't forget to hire some bar stools too so there is somewhere for your guests to sit down if they wish. You can always dress your tables with table linen and a centrepiece if you're aiming for a more traditional and sophisticated look.
It is also recommended to hire lounge furniture, such as sofas, armchairs and coffee tables. Having such items in your bar space creates comfortable, intimate areas for your guests to socialise in and enjoy.
If you are holding an outdoor event, use an outdoor furniture hire service like Allens Hire. For an outdoor bar, the checklist of furniture you'll need should look something like this:
Garden poseur tables
Bar stools
Garden sofa
Outdoor tables
Also, make sure you hire parasols and a gazebo or tent. Both will help to protect your guests from the elements.
At Allens Hire, we have an exciting range of LED bar units and a comprehensive array of bar equipment, cocktail glasses and bar furniture to help you ensure that your event goes off without a hitch. Contact Allens Hire today!