Allens Hire Christmas Party Special - Top 3 Themes for 2014 Christmas Parties
Allens Hire Christmas Party Special - Top 3 Themes for 2014 Christmas Parties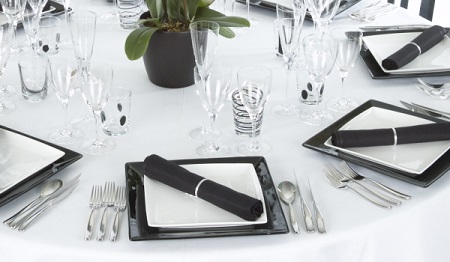 While the big event is still plenty of sleeps away, Christmas party planning season is very much upon us.
'Tis the season to be jolly, but if it's up to you to organise a Christmas event for friends, family or work colleagues it could also be the season to be feel a little stressed. Thankfully, the team at Allens Hire has plenty of ideas for Christmas parties and all the catering equipment and furniture hire you need to make them a success.
Take a look at our Top 3 Themes for 2014 Christmas Parties and then visit our Themed Parties page to find everything you need to create your favourite festive theme.
1. Santa's Grotto
What would Christmas be without the man in red? Now, he can visit early with a Santa's Grotto theme for your company Christmas party.
This particular theme is all about candy canes, reindeers and traditional red and green wreaths. The Allens Hire Ivory and Red party theme is the perfect way to cater this particular party.
We can provide mahogany chairs to complement the time-honoured aesthetic while an ivory table cloth is subtle enough to not distract from the trappings and decorations. Mulberry rim plates, red goblets and red and white wine glasses tie the table dressings to the rest of the scene.
Encourage guests to get into the spirit by handing out Santa hats.
2. Winter Wonderland
Sleigh bells ring and snow is glistening as party guests walk into their very own winter wonderland. This party theme is all about white and blue, so feel free to indulge in fake snow. A simple solution is hanging snowflakes from the ceiling. They could even be homemade.
Of course, no winter wonderland would be complete without the snowmen so find some decorative versions of those too.
Our Teal Shimmer and Squirl Plates theme is perfect for creating a cool Christmas theme. Here, we provide white Camelot chairs and teal shimmer tablecloths to stand out from the blizzard of white decorations. Our squirl plates and bowls are white as snow and even look like they're made of it. Twist tumblers and aquataine wine glasses meanwhile could almost be cut from ice.
If you're dreaming of a white Christmas this could be the theme for you.
3. Christmas Chic
For an elegant and upmarket Christmas Party 2014, opt for Christmas Chic. Silver tinsel and snowflakes are the decorations of choice and you could even encourage guests to go black tie.
The Black and White Square themed party is the most stylish catering hire available right now; perfect for a smarter Christmas soiree. Snow Drop Matisse tablecloths are crisp and white; offset by napkins as black as coal.
White square dinner plates are placed on top of larger black plates for a fashionable, layered aesthetic, while Levite cutlery, jazz tumblers and Siena glasses are elegant with just a hint of fun. Perfect for a sophisticated Christmas party that doesn't sacrifice too much festive fun.
These are just a small selection of the party themes currently available from Allens Catering Equipment and Furniture Hire. Head over to our Themed Parties section to discover them all, or call us today on 0208 574 9600 (London) or 023 8065 2316 (South Coast) to place an order and make arrangements for your 2014 Christmas Party today.