Jars Stoneware Dinner Plates for Your Event
Jars Stoneware Dinner Plates for Your Event
Stoneware, a form of opaque non-porous pottery, has emerged out of the depths of history to be a popular trend for dinnerware in restaurants, at home and for events. The trend has been born from the farm-to-table movement, pioneered by chefs such as Jamie Oliver, Hugh Fearnley-Whittingstall and Rene Redzepi (the chef behind Noma, the two-Michelin-star Danish Restaurant that has been named best in the world 4 times byRestaurant Magazine)and it proves rustic food needs a rustic backdrop.
Traditionally, fine dining restaurants and high-end events have favoured white porcelain both for its delicate appearance and clean look. However, the texture, colours and imperfections of stoneware plates creates a rustic, characterful aesthetic for some of the best chefs in the world
Leading the trend towards rustic is Jars, the quirky French pottery maker, who has been creating pottery since 1857. Jars is synonymous with design, craftsmanship and quality. The skill of its craftsmen has earned the company the prestigious status of Entreprise Francaise du Patrimoine Vivant (French Companies of Living Heritage). Each piece is handmade and passes through hands of the ceramicists 17 times before it is allowed to leave the factory, which is located between Lyon and Valence. No plate is the same as the next, meaning you have a truly unique product.
Using Stoneware in Events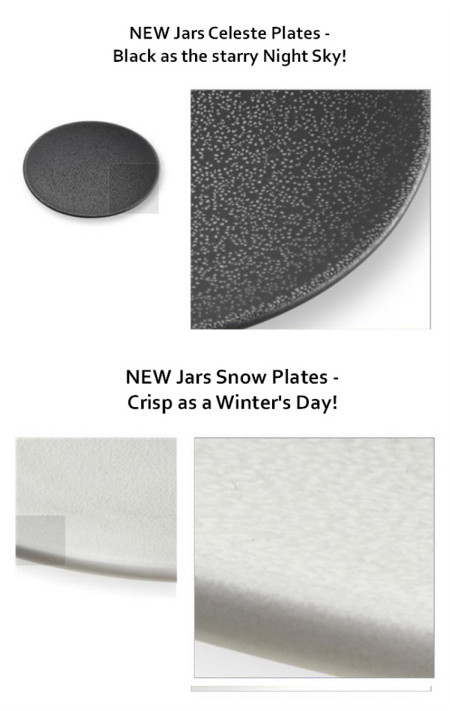 At Allen's we offer a number of Jars' unique stoneware dinner plates. The range features bold bright colours such as cerise and burnt orange both using a glazed finish, as well as understated tones of black (Celeste), snow, Rosemary (a very pale green), Ginger and Truffle, all with more matt finishes.  The former two have perfectly round edges and the latter three have irregular edges adding more to the rustic feel.  Each plate has its own charm and texture, making it versatile for any sweet or savoury dish.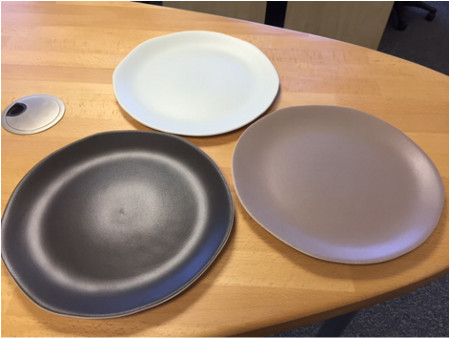 Clockwise:  Rosemary, Ginger, & Truffle
The bold colours put food centre stage and photographs well for social media platforms such as Instagram, Snapchat and Twitter. In fact, it was the images of Noma's dishes on stoneware in Rene Redzepi's bookNoma: Time and Place in Nordic Cuisinethat kicked off the trend according to theWall Street Journal.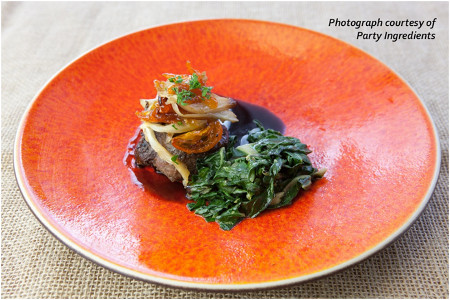 Event managers, caterers or wedding planners are always looking for ways to create a uniquely memorable event, and staying away from uniform white porcelain can help you achieve that. The colour, texture and imperfections of stoneware can create dramatic table layout that will delight your guests, and get them whipping their phones out to snap a photo that will help them remember your event and share their experience with their followers on social media.
If you are holding an event and want to hire Jars stoneware dinner plates or any other catering equipment and furniture then don't hesitate to call our London office on 020 8574 9600 or email enquiries@allenshire.co.uk. For customers based on the South Coast, you can reach us on 02380 652 316. We also have an online chat service available during office hours.