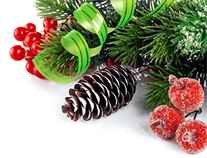 Whether you are a company, an event planner or organising a private party, a Christmas party is one of the biggest events of the year. With so much to think about during the Christmas period, you can take the stress out of event organising by hiring your catering equipment, chairs, tables, linen and more from Allens Hire.
Christmas is a time to get more creative with your table and venue decorations. We have taken inspiration for this year's trends for rainbow colours and edited a selection of our favourite pieces that will fit this season's Christmas colour trends.
The deep red of Ruby has always been a festive colour, get the look with the Mulberry Rim Plate, Harlequin Burgundy Red Coffee Can and Saucer, Ruby Glassware and Burgundy Kensington Cloth.
Bring brilliant emerald to your event with the Green Rim Plate 12", Riedel Degustazione glassware range, White Camelot Chair with Forest Green Padded Seat and Kensington Forest Green Cloth. This rich colour is a standout hue that is always popular with guests.
Amber is a warm colour reminiscent of crackling fires and toasty drinks. Lay your table with our Amber Water Glass, Orange Jars Plate, Silver Banqueting Chair with Gold Padded Seat and Expressions Burnt Orange linen.
Gold is always a classic hue at Christmas! After all, it's a time to splash out and enjoy the finer things in life. Bring a dash of luxury to your event with Nachtmann Glassware, William Edwards Gold Plate, Gold Banqueting Chair and Kensington Gold Cloth.
Jet is a modern and striking shade. Dramatic and eye-catching, choose our Black Jazz Tumblers and Villeroy and Boch Stella tableware for your Christmas events. For a striking contrast, opt for Robert Welch Iona cutlery and Black Kensington linen.
The sophisticated colour of sapphire is the shade to watch this season. Rich and deep, this hue strikes the perfect contrast with brilliant white. Choose our Blue Rim Plate, Blue Water Glass, Natural Limewash Camelot Chair with Blue Padded Seat and Navy Matisse Cloth to bring sapphire tones to your event.
Bring the ethereal colour of moonstone to your Christmas event with White Jazz Martini Glasses, Jars Rosemary Plate, Chantilly Chair and White Kensington linen.
No matter what the colour or theme of your event is, we will have everything you need for your Christmas party catering hire in London. Not only can we offer swift delivery we will also do the washing up. Contact Allens hire today!