Allens Hire at the Hotel & Catering Show 2014 this week, come and visit us!
Allens Hire at the Hotel & Catering Show 2014 this week, come and visit us!
This week is a busy week for us here at Allens Hire, as we'll be exhibiting (& sampling the delights on offer) at the Hotel & Catering Show 2014 in Bournemouth. 

We'll be joining a wide range of other local businesses & colleagues in the catering industry to share skills & knowledge as well as a great opportunity to network with standout show partners such as The Staff Canteen, Dorset Chamber of Commerce & Industry amongst many others.
We've been to this event previously in 2012 & 2013 and are really looking forward to meeting everyone at this year's show. 
Speaking of the previous show, our Managing Director Kevin McGuinness said "It was a great show, very well managed, with a good atmosphere and lots of interesting people there - I particularly enjoyed the cookery demonstrations"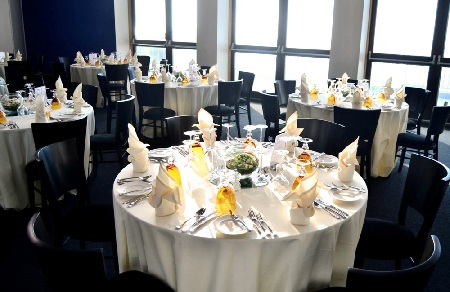 As well as Cooking Demonstrations from local luminaries & celebrated chefs there are a number of specific events such as the Source Producer's Market showcasing the best of locally sourced produce and a focus this year on tapas style cuisine.
For budding Sommeliers there's a Food & Wine Pairing workshop, blind spirits tasting & a Q & A session with UK Sommelier of the Year Eric Zwiebel.
There's also a pop up restaurant in the form of 'The Chef's Kitchen'  being run by James Golding (The Pig) and Christopher Basten (Craft Guild of Chefs) leading teams of promising student chefs.  Places at The Chef's Kitchen are sure to be in demand, with 2 60-cover lunch dining experiences across the two days.
All in all, it's sure to be an exciting two days (11th & 12th March) and Allens Hire are looking forward to meeting you there, showcasing our range of catering equipment, furniture & tableware hire products available across the South Coast as well as Catering Hire in London.
For more information on the Hotel & Catering Show 2014 visit the website at https://www.hotelcateringretailshow.co.uk/ and keep up to date with Allens Hire via our Twitter feed, Facebook page or sign up for the email newsletter for all the latest updates on events, products and catering trends.