Food festival essentials for vendors
Food festival essentials for vendors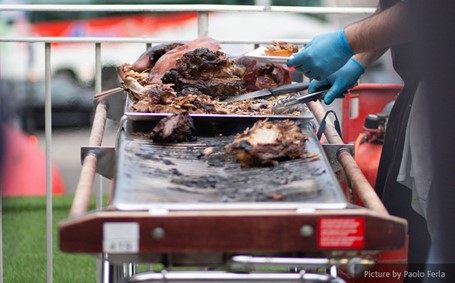 Festivals and cultural events, which include food festivals, contribute £1.1 billion to the UK economy; and outdoor events, which tend to feature food vendors also contribute £.1.1 billion to the country's economy. Festivals are now big business and food festivals are a growing branch of the festival scene. However, food vendors are not just found in specialised food festivals but in all sorts of festivals from music to literary festivals. So, if you're about to embark on your first festival season and don't want to commit to buying your own equipment – hiring equipment can be a cost-effective way to dip your toe into this potentially lucrative market. Whether you need barbecues, outdoor kitchen equipment or furniture, hiring what you need from a catering hire company is a great way to minimise risk and keep costs down.
Another important thing to think about when you're a first-time food vendor is what festivals do you want to target. If this is your first season, it's best to start small with local festivals and small-scale food festivals rather than going straight into the deep end with a spot at Glastonbury. However, whatever the size of the event, you need to apply to the types of festivals where you think the type of food you're providing will fit. For example, if you specialise in some kind of up and coming street food, a traditional festival celebrating the local arts may not be the best fit. When you are weighing up which festivals to apply for, think about your target market, how much you can charge and the competition.
What you need to hire for a food festival?
If you are going to take the plunge and become of food vendor, here are our recommendations on what you need to hire for a successful festival season.
Paella is one of the UK's most popular Spanish dishes and is a great food festival dish. If you are planning on serving paella or need a big gas-fired pan for other dishes, then opt for our paella pan and burner set.
Does your menu involve grilling and barbecue cuisine? Then opt for our selection of charcoal and gas-powered barbecues. Whether you are grilling halloumi, serving burgers or cooking up some chicken wings, our BBQs will help you serve mouth-watering food.
Whether you need to furnish a small seating area or a whole bar space, we have a range of outdoor sofas, chairs, bar tables and bar stools that will suit the space you have.
We all know that the British weather is not predictable, so if you are cooking outside make sure you have some cover from the elements. Our easy to assemble pop up gazebo tents are the perfect option for the food festival season.
Whatever you need to hire to make your food festival season a success, contact Allens Hire today.