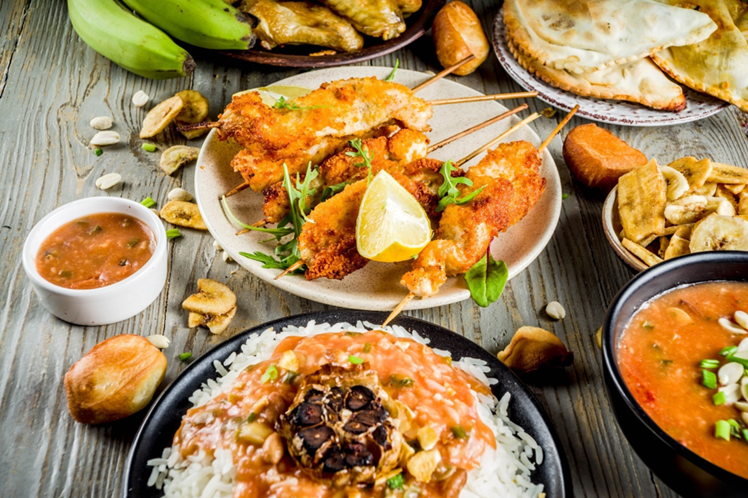 For 2019, we predicted that vegan food, crumpets and goat meat were going to be the biggest food trends of 2019 and it looks like we were right. Vegan food has soared in popularity and the number of vegans has risen to more than 1% of the population (around 700,000) and, according to a survey by Finder.com, more than one in five Brits will be meat-free by 2020. Waitrose has seen crumpet sales rise by 27%; however, while we haven't managed to find figures for goat meat, we have seen goat on menus at London restaurants and some farmers have started to diversify into goat rearing, proving that this is not a flash in the pan trend. As goat is a sustainable meat, which is low in cholesterol and high in protein, we are likely to see more of it on our plates in the UK.
With 2020 only around the corner, we have decided to take a look at what may end up on your menu at your next event. Here are the food trends we think will be taking the event industry by storm in 2020.
Sustainable foods
2018 and 2019 saw a push for environmentally friendly packaging, 2020 will see the spotlight land on sustainable farming practices. After Iceland's Christmas ad went viral last year, palm oil is still making headlines; the use of sustainable palm oil or going palm oil free will be a big food trend, along with using sustainable farming practices, such as regenerative agriculture. Keep your food sustainable by buying local, free-range and organic.
Alternative flours
There has been an albeit small but growing trend for the use of ancient grain flours and other alternative flours, such as coconut and buckwheat (which is not a wheat, nor is it a grass. It is related to sorrel and rhubarb). In the UK, in particular, there has been a rise in artisan mills, which will mill grains so that they keep their taste and nutrition. Take this trend and bake your bread and baked goods offering using ancient grains such as spelt, rye or einkorn (a Moroccan flour that is perfect for flatbreads and pizza basis). Einkorn is thought to be one of the earliest types of wheat grown and eaten by humans. 
Serve your mouth-watering bread creations on our rustic wooden serving platters or in our new wooden buffet risers.
West African foods
Colourful, delicious and healthy, West African food is popping up at our supermarkets, restaurants and events. Characterised by spice and ingredients such as okra, plantain, moringa, yam, peanuts and cassava, West African food tends to be mainly plant-based. As many dishes are vegan, vegetarian and gluten-free, they are perfect for catering to today's different dietary changes and restrictions. West African food is ideal 'bowl food' for events; and, if you need any inspiration on how to take these hearty dishes and turn them into something spectacular, pay a visit to Ikoyi near Piccadilly Circus, the UK's only West African Michelin star restaurant.
Compliment the colour of west African foods with our colourful array of tapas bowls, featuring earthen colours as well as classic crisp white, our tapas and serving bowls are ideal for this type of cuisine.
Fresh snacking
This food trend is perfect when looking for inspiration for canapes. With people taking an increasing interest in what they are putting into their bodies, the trend of fresh snacking comes from the desire to keep things simple. Fresh snacks, that may be found in the fridge section of the supermarket, are increasing in popularity. They tend to have fewer ingredients and are deemed more natural. American health supermarket, Whole Foods, thinks this will take shape in the way of hard-boiled eggs, pickled vegetables and drinkable soups. These types of snacks are ideal for healthy canapes at events.
Display your healthy canapes on our range of canapé trays. From stand out glass platters to wooden serving trays and bento boxes, you'll find the perfect canape platter for your event with Allens Hire.