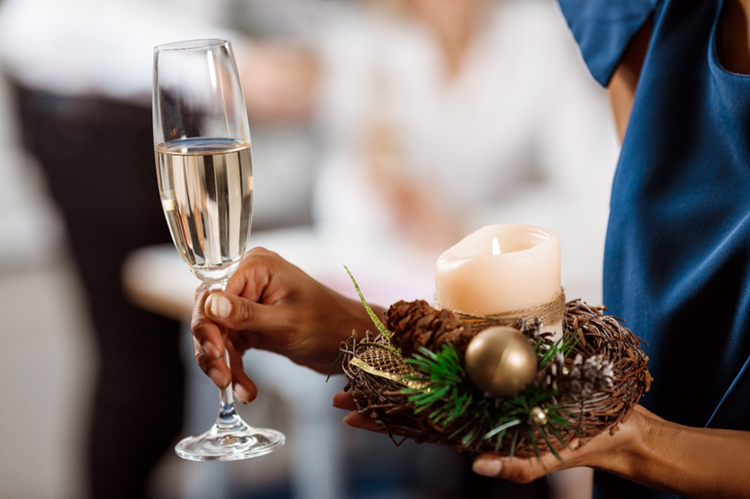 Christmas is coming and as the seasons change, thoughts move towards the party season and the Christmas event planning begins in earnest. To help you get inspired we've hunted down the latest Christmas trends, so you can plan the best Christmas party yet.
It's time to party
One of the biggest trends this festive season is partying, but with a hint of nostalgia. This year, John Lewis has taken inspiration from the flamboyant nightclubs of the 80s and 90s and have been the flag bearer for this trend. Think neon, holographic textures and garish clashing colours - this trend is all about excess.
This theme is almost made for the office Christmas party. Decorate using neon lights, hot pink and retro items - oh, and don't forget to book a DJ who knows their way around the tunes of the 80s and 90s.
When it comes to your table decor, our range of Shimmer linen is the perfect choice for this 80s & 90s party trend. Available in Champagne gold and shimmering silver, this linen will provide a great backdrop for your choice of china and cutlery. This type of theme cries out for a cocktail, so choose our coco martini glass for that splash of colour, elevating your drinks offering.
Wellbeing
Wellbeing has been a central theme to 2019, so it's no surprise that it has spilled into this year's festive trends. The polar opposite of the above partying trend, this trend is all about wellness, rest and rejuvenation. Christmas time can be the ideal moment to take a step back and retreat.
Bring this theme into your event by providing relaxation spaces for your guests to retire to, so they can enjoy private meaningful moments with friends and get away from the noise of the party. Our lounge furniture provides the perfect seating for creating comfortable chill-out zones within your venue. Another way of offering your guests a sense of wellbeing is to include healthy options on your menu. While this may seem a strange thing to do at Christmas, many will enjoy the break from the excess, especially if they have a busy party season ahead. 
Nature
Another big trend in 2019 is nature. Organic shapes and natural materials have dominated, not just within interior trends but fashion trends, too. So, unsurprisingly, nature is set to be a big trend this Christmas. If you want to bring the outdoors into your Christmas party, then choose a real tree and decorate your venue with greenery such as natural garlands layered with pinecones, acorns and holly.
Bring nature to your party tables with our range of Cotswolds linen made from woven natural fabrics and finish off with our rustic handmade Jars plates and Robert Welch cutlery.
If you need catering or furniture hire for your Christmas event, then contact us on 0843 289 5708.