From our basic water and wine glasses to our more sophisticated crystal glasses, at Allens Hire, we are always looking for new glassware products to enhance our range and keep up with even the most specific of needs. Here are just some of the stunning new glassware products which have hit the Allens Hire catalogue in recent months.
Riedel Glassware
Riedel has long been renowned for creating glasses that suit every type of lifestyle and budget, whether you're looking for a range aimed at serious wine tasting or one aimed at informal dinner parties. With our current collection of Riedel Glassware for hire proving so popular amongst our customers, we have decided to extend our collection by adding even more of their ranges to our catalogue.
Riedel Veritas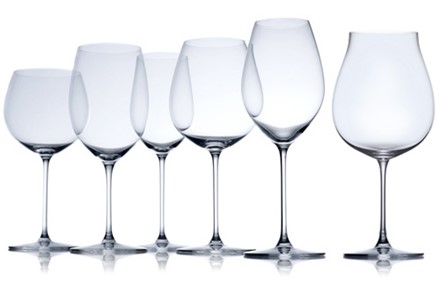 The collection of new Riedel Veritas is the crème-de-la-crème of our wine glasses for hire. Designed by world-famous glass producers; Riedel, these lead-free fine crystal glasses are machine blown to achieve unsurpassed thinness and lightness.  The designers at Riedel know their wine and have designed each glass to compliment your wine offerings. For those that favour pinot noirs – especially those from south America – the New World Pinot Noir glass is the one for you. Don't worry, if you have a penchant for Old World Pinot Noir we have a glass for that too.  This exclusive range includes glasses for the following grapes: Oaked Chardonnay, Riesling, Pinot Noir, Zinfandel, Cabernet/Merlot and Champagne.
Riedel Bar
Our brand new range of cocktail glassware introduced in 2018, is the Riedel Bar collection. The Riedel Bar drink specific glassware is made in collaboration with spirits specialist Zane Harris, answering the need for cocktail-specific glassware among restaurants and bars with glasses perfected for thousands of cocktails. The glasses are based off the traditional serves for classic cocktails and consists of the Nick & Nora, Neat, Rocks, Sour and Fizz glass, as well as the Whisky and Water glass.
Riedel Spiegelau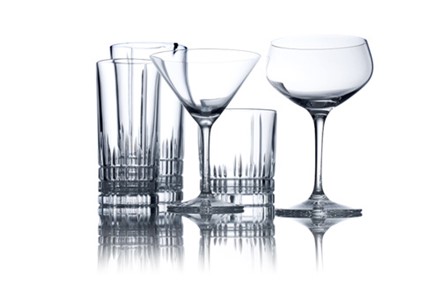 Our new collection of Riedel cut crystal, cocktail glasses are the perfect choice for those speciality drinks. Ideal for pop-up bars, cocktails and drink receptions, the Riedel Spiegelau glassware range features Coupette, V Shaped Martini, Old Fashioned, and long-drink glasses as well as a large mixing glass.
Riedel Nachtmann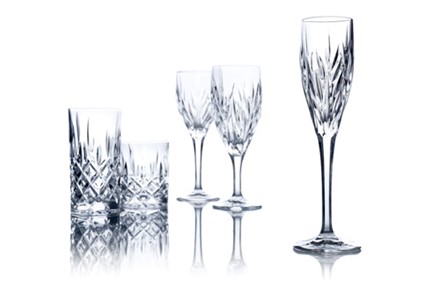 Cut from the finest crystal, the Riedel Nachtmann range is classically chic with a vintage feel. Ideal for high-end events where elegance and refinement are imperative, these glasses have a range of designs from Noblesse to Palais and Imperial. Riedel is synonyms with quality and the Nachtmann collection consists of long-drink, Whisky, Martini, red/iced beverage and white wine/all purpose glasses as well as Champagne flutes.
Riedel O Stemless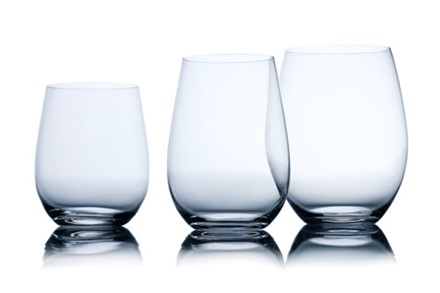 Contemporary in design, the Riedel O Stemless collection are perfect for any event that wants a modern twist. The collection features three wine glasses that compliment such grapes as Cabernet / Merlot, Riesling / Sauvignon Blanc, Viognier / Chardonnay.
Riedel Restaurant

Riedel is a name that is synonymous with quality. Our Riedel Restaurant collection has a range of wine glasses for the most popular and classic grape varieties such as merlot, pinot noir and sauvignon blanc. For that after dinner digestif hire the Riedel Restaurant Cognac glass.
Riedel Degustazione
Last but not least, the Degustazione collection brings the classic designs of this highly respected brand together. Our entry level, accessible range offers generic red and white wine glassware for customers looking for a classic collection, alongside a champagne flute and complementary Degustazione O glass for water or other beverages at the table.
If you're not sure which glassware collection is right for your event, or you need advice on quantities, give us a call on 020 8574 9600 (London) or 023 8065 2316 (South Coast), or alternatively you can email us on enquiries@allenshire.co.uk.