Whether you're planning a wedding, a corporate networking event or any other type of event in London, the likelihood is that you will need to create an area for your guests to set their drinks down and mingle in – and at Allens Hire, our team are dedicated to providing you with the highest quality furniture to perfectly suit your event.
Rustic Trestle Tables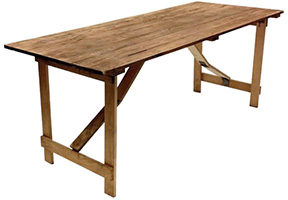 Our unique rustic trestle tables 6' x 3' are now in stock! Featuring foldable legs for easy storage, these charming tables are great for weddings and banquets and can be beautifully matched with our antique wood crossback chairs.
Poseur tables

When planning an event, one of the first things to think about is how your guests will navigate the area and interact with one another – so, to make this part of the planning stage a little easier, Allens have added a range of stunning poseur tables to their extensive furniture catalogue.
Poseur tables are an essential component for any event that includes drinks, and our range of square and round-top poseur tables are ideal. Our round poseur tables are available with clear glass or smoked glass tops as well as black and white tops. Our square poseur tables are available in a choice of black or white tops. Each of our poseur tables are not only an elegant addition to any event, but they're also a great way to create lounge environments for your guests, whilst saving space.
If you're not sure which type of table is right for your event, or you need advice on quantities, give us a call on 020 8574 9600 (London) or 023 8065 2316 (South Coast); alternatively, you can email us on [email protected].